Netflix's Cheer has more sadness than spirit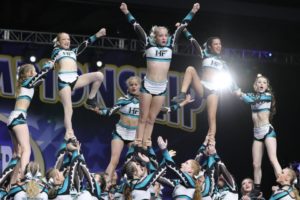 Staff writer Kayla Malaski is a member of the Varsity Huskie Cheer Team. In addition, she is also an All-Star cheerleader with 13 years of competitive cheer experience. Here, she uses her expertise to take a hard look at Netflix's phenomenon, CHEER.
---
The Netflix TV show Cheer has had 2 seasons so far and has taken much of the U.S. by storm in popularity.  However, with popularity also comes controversy, and controversy is something that the show Cheer has had a great deal of. 
The docudrama focuses on a small Texas community college, Navarro, and their cheer team, which is filled with top talent from around the country. Navarro has won multiple national championships and titles around the country for their abilities.  These athletes have been recruited from high school cheer and all-star cheer gyms, and they are a very diverse group from many different backgrounds. Despite their success, Netflix exposed many of the team's flaws, and their shining reputation took a substantial hit with their rise to streaming stardom. 
One of the most glaring problems arose when head coach Monica Aldama (who is on a first name basis with athletes on the show) decided, after the first season and the team's rise to fame, to follow her dream of being on Dancing with the Stars. She effectively abandoned her athletes, leaving them under the leadership of a Navarro alum and minimally coaching them and preparing the them for their competitions. Whatever the motivation, her actions are unacceptable.  Leaving your team puts a mindset onto the team that they don't deserve to be coached, which can be mentally damaging.  In my personal experience, a coach once abandoned the team, and the team was never able to recover fully and always had the question of why this coach just didn't want us.  This situation is the same for the athletes at Navarro, and the stress of completing, having school, and being young adults can be very stressful. Monica's actions are completely unacceptable, and it was clear in season two that her absence brought considerable stress onto those athletes.  
Navarro has also had a series-long issue of their athletes mentally deteriorating to the point of breakdowns. The show commonly shows people crying or injuries happening on the mat.  Injuries should not happen that often – even at the level these athletes are on – unless the athletes are not being taught correctly.  This represents Cheer in a negative light in that injuries seem to be common, making cheerleading appear to be an overly dangerous sport, which is not true.  While there are always risks, proper coaches will always make sure athletes are taught skills and stunts correctly so that they are able to perform them without getting hurt.    The same goes with breaking down from stress.   Monica puts a large amount of stress onto her athletes, when as college students they have enough going on.  This is not to say that cheerleading is not intense: in our sport, competition is often synonymous with stress. Just last season. my gym had 5 athletes need to leave for mental health reasons.   At CA, or Cheer Athletes, a huge gym with multiple locations, kids from ages 3-18 are brought up in this environment where the constant mental and physical conditioning is evident.  Cheer shows clips of their own athletes cheering at CA and how "good" the All-Star world is, when in reality, its gyms often grow toxic attitudes and images of the athletes. Navarro exacerbates this already damaging environment by degrading their athletes to the point of compromising their mental health. 
Separately from the issues within the actual program, one person on the original Cheer cast who has caused controversy is Jerry.  Jerry gained massive popularity and even held tumbling classes at his home gym, ICE.  He was a mentor for many children and when the allegations of him sexually harassing children hit the news, the story gained popularity very quickly. The case against Jerry stipulates that he asked for explicit pictures from minors that were also a part of the youth elite cheerleading community. His charges rocked his Navarro teammates and put Cheer into an even more negative night, leading viewers to wonder whether this was an isolated incident or if competitive cheer would have the same undoing as competitive gymnastics in recent years. 
Between the coach's selfish ambitions, the athlete's deteriorating physical and mental health, and Jerry's arrest, the series does less of what it aims to do: "follow the ups and downs of Navarro College's competitive cheer squad as they work to win a coveted national title" and more of what it's subjects would never want it to do: create a bad image of the sport as a whole that might make parents think twice before putting their children into cheer in the first place. The show skimps on the things that make cheerleading and being a part of an elite team truly great. Positive experiences like team building, growing through constructive criticism and adversity, working hard to hit a new skill and celebrating afterward, and coming together as a family all get less airtime than the elements of the show that are more dramatic, but it's important for audiences to understand that those things are where the heart of cheerleading is, and those good things can be found everywhere – Even in our own Igloo – and not just on a mat in Corsicana, Texas.