PN hosts first in-person People's Choice awards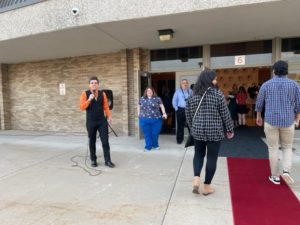 Portage Northern's 2022 People's Choice Awards is officially over. With the 47 teachers and their chosen students gathered together in the auditorium, this event was definitely one to remember. Students, staff, family members and more joined together to watch and celebrate the success of the students.
Assistant principal Kelly Hinga set up and planned the event, along with help from Cece Weeks, Joseph Woods, and multiple other staff members. Starting off with a simple meeting to begin the process, then the staff started picking their students. Once the students were chosen, the parents were notified, invitations were sent out, and the event truly kicked into overdrive. 
The emcees had students guessing who picked them, and once they were told who picked them, the staff member gave a quick three sentence speech about the student and why they chose them. "My favorite part was either the talent parts or when we actually got to find out who nominated me because that is a very cool and surreal moment," says freshman Addison Munn, "I was one of, I believe 4-5 freshman nominated and we have waited months to find out."  Of all of the students within the school, being chosen is truly something to be proud of. Along with the students and staff who were involved in the event, there were also performances such as an orchestra show from the string quartet, tap dancing, and singing from students within the school. One of the performances was from Portage Northern's orchestra, "It was cool being able to play for a new audience," says senior Samantha Killmer, "I don't think most students attend the orchestra events, so I feel like we shared a new part of the school with them. It seemed like people really enjoyed it!" The People's Choice awards gave people an opportunity to showcase their talents to a whole new audience, and it gave people an opportunity to see the real connection that students and teachers cultivate. 
As this being the first year Portage Northern hosted the People's Choice awards as an in-person event, it's easy to say that it was a success, and will continue to be an amazing opportunity to bring students and staff together for many years to come.