Past Huskies gather for Huskie Stadium video montage
On July 5, 2018, past students and coaches of Portage Northern gathered to film a video montage to be played at the first game played on Huskie Stadium. Among them were coach Joe Wood, Nick Kaiser, and coach Jerry Spade.
Both Wood and Kaiser participated with the football program. Wood is a past football coach who was at Northern for 15 years. Wood recalls his favorite memory of his time at PN: "In 1981, we were undefeated. We went to the playoffs. We made the semifinals. And, of course, anytime we beat Portage Central." Kaiser played for PN and graduated in 2013. "I had a lot of good memories, building friendships that have lasted until now," he said. "I just love being out there competing against our rivals."  Kaiser is jealous that he didn't have a chance to play on the field, but is happy for the students who get to. "I'm excited to come and check out some games here."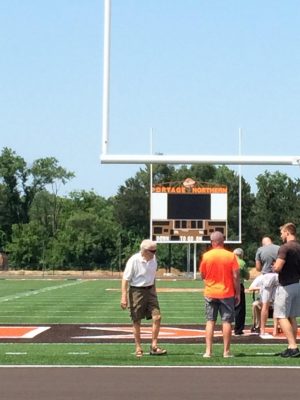 Jerry Spade coached at Northern from the beginning, and was a part of the basketball, cross country, and track programs. He is now a MHSAA track and field official. He is excited for the new field, but for a different reason than most: "I'm excited about the new track. As a matter of fact, I get to start the first track meet here when they run St. Joe this spring. I'm looking forward to many seasons here on this track."
Many people are excited for the new field, and all for different reasons. They all came to the field to support their team, and to make something special, for a very special occasion.