Huskie alumni Nick Keizer set to play in Super Bowl LV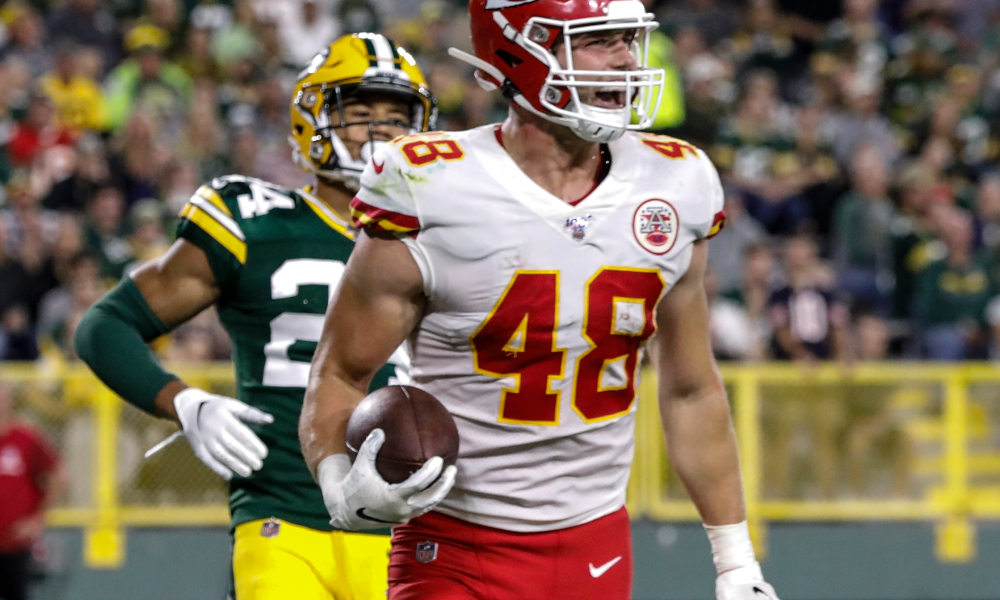 The Super Bowl is the biggest game in the NFL. Every year, the best teams in the NFC and the AFC battle it out to determine the best team in the world. However, few Super Bowls are as closely connected to Portage Michigan as this one. And no, it's not because Tom Brady went to Michigan. It's because Nick Keizer went to Portage Northern High School.
If the name Nick Keizer doesn't sound familiar, that's not too surprising considering that his rise to success wasn't the result of a meteoric high school or college career, but rather the outcome of a long, committed grind. Keizer graduated from PNHS in 2013, playing both basketball and football during his time here. He was unranked coming out of high school and attended Grand Valley State University.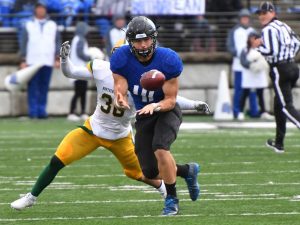 Keizer took reps at outside linebacker for the Lakers, but his tight end play is where he truly shined. Keizer didn't play much for his first few years at GVSU, and it wasn't obvious from looking at the stat sheet that he had the skills to make it to the next level. Nick's brother Ben, a PNHS class of 2015 alumni and minor league baseball player for the Yankees, gives insight into this reality: "To be honest, the dream didn't really become a reality until his 5th year at GVSU," he said. "His first four years he battled through a lot of adversity and slowly worked into the starting role." 
Nick broke out in 2017, starting 8 out of 11 games and recording 29 receptions for 504 yards and 9 touchdowns, leading all Division 2 Tight Ends with 17.4 YPC (yards per catch). This was when he started to gain attention, and Nfl.com pegged him as a potential 7th round pick.
He ultimately went undrafted, but was signed by the Baltimore Ravens to their practice squad. This was a big step, but a tough one. The Ravens had several talented tight ends on the roster, so there wasn't really a spot for an undrafted rookie out of GVSU. "Being in a crowded TE room in Baltimore allowed him to see what it takes to play in the NFL," said Ben. 
Luckily, another opportunity would come when the Chiefs signed him to their practice squad before the 2019-2020 season. Nick didn't record a single stat for the team in 2019, but he was in the door, and next season, there were whispers that he may be the dark horse to back up Chiefs starter Travis Kelce. "He understands blocking angles… and while on the move, does a good job framing his blocks…  He has enough speed and size to run the seam and present a large target — and has even flashed some ability to use his size in one-on-ones for in-breaking routes," wrote Chiefs reporter Matt Lane during the preseason. "If the Chiefs continue to use a blocking tight end behind Kelce, Keizer would definitely be the best fit." Lane turned out to be right on the money, as Keizer saw playing time this season as the second TE.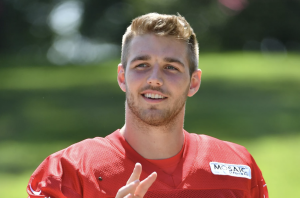 Things didn't start the best for Nick, who recorded a fumble in some of his early action, but Ben wasn't worried for a second. "Stuff like that is gonna happen. But something that's always been really impressive about Nick is his ability to bounce back and learn from his mistakes, he said. "He's faced a lot of adversity and had to overcome some pretty tall odds." 

Nick did indeed bounce back, ending the season with 6 catches for 63 yards while having the good fortune to play with one of the most exciting young quarterbacks in the league: Patrick Mahomes. That magic isn't lost on him, either: "When the ball leaves his hand there's little sparks and little rainbows around it every time," he said. 

There is a certain excitement surrounding the Super Bowl, but for the Keizer family and Portage Northern school community, this game is especially significant. Tomorrow, Nick will play on football's biggest stage, against Tom Brady and the red-hot Tampa Bay Buccaneers, and the Keizer family is ecstatic. "We are really lucky as a family to be surrounded by a lot of great people. The support Nick received last year was overwhelming and it goes to show how special the community is here," Ben said. "To reach the pinnacle of your profession/sport is quite an impressive feat, no matter what role you serve. It is so great to see him experience that opportunity." 

With his team set to play in the Super Bowl, it's clear that Nick has reached this pinnacle, and with his Portage roots, he's certain to have a pack of Huskies to cheer him on as he fights for the title of world champion. "Nick is a terrific representative of the Portage Community and Portage Northern High School. I couldn't be prouder of him," said PN head football coach Pete Schermerhorn. "Nick is obviously an outstanding football player, playing in the biggest game at the highest level, but he's even a better person. I am extremely excited to watch him play in the Super Bowl." 

Below, watch Nick Keizer talk after catching a TD in a preseason game against the Packers about how he's grown and developed as a member of the Chiefs program.

Belleville News