Senior Lyse Bates hustles, hits, and never quits
Senior Annelyse "Lyse" Bates has been playing volleyball ever since she was in 5th grade, when she instantly fell in love with the sport. "I like the team culture and the team competitiveness," she shares. 
Classmate Alia Mastromatteo has been playing with Bates since the two were in 5th grade together. "Lyse is a great leader and she brings a lot of encouragement and positive reinforcement," she says. "She is just a great teammate and really smart with where to place the ball," she said. Their coach, Erin Onken, couldn't agree more, adding: "Annelyse is THE leader on our team. She does a great job of setting the expectations for practice and competition."
Bates has been playing on the PN varsity volleyball team since she was a freshman. "It was definitely a new experience," Bates said. "But I think the family atmosphere and the supportiveness of the team just helped being a freshman on varsity."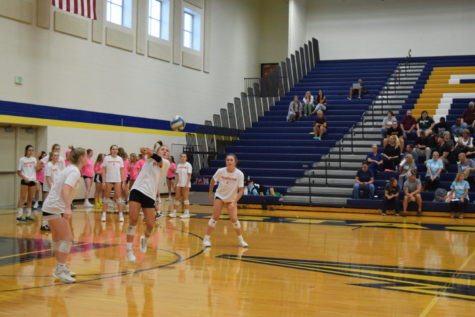 Bates has several attributes that make her an elite volleyball player.  "Her Volleyball IQ is off the charts, but that doesn't stop her from wanting to learn more each day," Onken explains, "which in turn allows her to elevate her game as she understands each player's role around her."
Bates started out volleyball as an outside hitter, then moved into a more defensive role, with the position she is currently playing—libero—being her favorite. Libero is a highly-specialized position that is reserved for players with impeccable ball control skills because the player in that role is responsible for passing the ball to her teammates to help them run the offense well. 
"As competitive as she is . . . Lyse is witty, sarcastic and kind and I have enjoyed every minute of getting to know her better as a person," said Onken. "She will leave behind a legacy of determination, passion for the game and for the kind demanding way she leads." 
The countless hours Bates has spent practicing and perfecting her game have paid off, allowing her to play volleyball at the next level. A year from now, Bates will be sporting black and gold as a player for Oakland University, a D1 school in Rochester, MI.