Forensics scores big at Mackinac Tournament
A mere three weeks ago, the Forensics team finished up their regular season by taking third place overall in their division as well as having two state champions. On Friday, May 19, members of The Portage Northern Forensics Team extended their season by travelling to Mackinac Island for a weekend stay and tournament at The Grand Hotel.
The Mackinac Island Tournament is far more laid back than the regular season. At this specific tournament, students can compete in events outside from their normal category. This is partly because the events at Mackinac are completely different from that of the regular lineup. Events this year included Mini Multiple of an 80's movie, Duo Satirical Broadcasting, Slam Poetry, After Dinner Speaking, and Millennial Declamation. D.I. and Storytelling are regular season events that were also included at the Mackinac Tournament.
Students arrived Friday afternoon and were required to attend a brief meeting about respect of others staying at the hotel and how the tournament runs. Once students attended the meeting, they had free time to explore the island until they got their room key and started getting dressed up for dinner. Females were required to wear a dress or pantsuit to dinner, and males were required to wear a suit jacket. After dinner, students attended an Evening of Champions that celebrated the accomplishments of students at the state level. Portage Northern had a record-breaking total of seven nominations, including Tashifa Fayyaz (12), Lexi Gavlas (11), Abigail Seeber(12) and Stephanie Scafaria (12), Bella Chadwick (12), Lily Antor (11), and Cole Curtiss (12). After the nominations, a select few were chosen to perform, and Abigail Seeber and Stephanie Scafaria got the opportunity to perform their state-winning duo, These Old Broads, on the Grand Hotel Stage.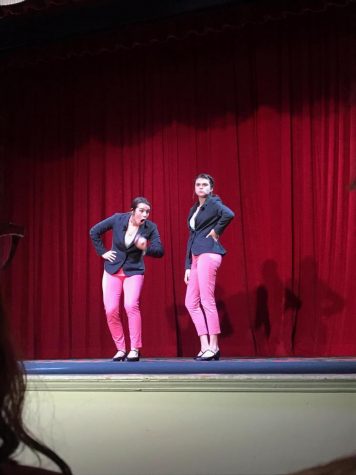 Saturday morning, students joined in the dining room for breakfast and prepared for the laid back tournament. Slam Poetry is on a different schedule than the other events. PN team members, Madz Vanwinkle (12), Jillian Bowe (11), and Trinity Posey (10) broke to finals in the event, taking home a fourth for Vanwinkle, third for Bowe, and first for Posey. The poets finished their final round at lunch time, leaving the other competitors to anxiously wait to finish their third round after lunch, before they know if they broke to semi finals.
Portage Northern broke a significant number of students to semi final rounds. After semifinals, students returned to their rooms to prepare for dinner once again. The students that did not break semifinals had time to explore the island or the hotel. While getting ready for dinner, finals were posted to Twitter. The students that broke to the final round were required to leave dinner slightly early in order to make it to their 8:00 p.m. round.
PN finalists included Brie Bradley (10) in After Dinner Speaking, taking home a fifth place trophy, Marina Alcaraz (12) took sixth place in Storytelling, and Isaac Reid (11) took second place in storytelling. Ellie Mancina (9), the only freshman from Portage Northern in the final round at the tournament, took second place in Millennial Declamation. The mini multiple, Annie, comprised of Lily Antor (11), Lexi Gavlas (11), and Abigail Seeber (12), took fourth place.
The Mackinac Island Tournament is a tradition that head coach Celia Weeks feared at one point students would be denied the opportunity to attend as she was not able to go herself. Luckily, school counselor Cindy Figueroa gladly jumped in and was the team chaperone for the weekend, allowing the team to compete. A good time was had aby all and returning members are already thinking about their pieces for next year.