Mae Jemison visits Kalamazoo
On March 23rd in Kalamazoo's Miller Auditorium, young girl sat on her mother's lap, wearing a "Future NASA Astronaut" t-shirt, as she sat actively engaged in the words of Mae Jemison: the first woman of color in space.  As a part of the Kalamazoo speaker series with emphasis on the Humanities.  Jemison spoke to the crowd on "Science and the Human Endeavor: Exploring the Frontiers of Space and Human Potential."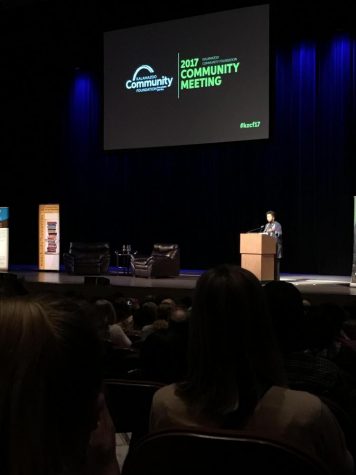 Mae Jemison was born in Decatur, Alabama, but considers her hometown to be Chicago, Illinois where she was raised and attended public schooling.  Jemison went on to Stanford at age 16 to study Chemical Engineering and African Studies.  Upon graduation, she entered Cornell University Medical College and, during her years there, found time to expand her horizons by studying in Cuba and Kenya and working at a Cambodian refugee camp in Thailand.  After she obtained her M.D. in 1981, Jemison interned at Los Angeles County/University of Southern California Medical Center and later worked as a general practitioner. For the next two and a half years, she was the area Peace Corps medical officer for Sierra Leone and Liberia where she also taught and did medical research.
"I would encounter dilemma after dilemma as folks attempted to understand me either as a budding scientist or a budding dancer"  says Jemison, discussing her interests in both the arts and the sciences.  "But why not choose both?" thought Jemison.  Thus, Jemison embraced both her love for science and the arts throughout her space explorations and life in general, "I just ended up collecting african art as a hobby and learned the switches on a space shuttle all at the same time." Jemison explains, "why do I have to narrow down what I want to think about in order for people to feel more comfortable?"
On her first space exploration on the shuttle "Endeavor" in 1992, Jemison brought up three, seemingly unrelated, items.  "I carried up, among other things, an Alvin Ailey Dance poster, a Bundu Statue, certificate from Chicago Public School's,"  To some, these items may have seemed to express different aspects of Jemison's life.  But to her, they all revolved around one thing, "They each represent human creativity," says Jemison.  The Alvin Ailey dance poster represented the human endeavor to explore the art of choreography, while the Bundu Statue stood for a women and girls society in west africa.  And finally, the certificate from Chicago Public Schools signified a promise to do well in the math and science fields, no matter the challenges they were to face later on in life.  
The upbringing of all of these now related items into space brought about the subject of the differences between the arts and sciences.  As a lover of both, Jemison argued that "The differences between the arts and the sciences is not that one is intuitive and the other is analytical. They are not different sides of the same coin, but different quantum states."  She further explains that the arts and sciences work hand and hand and one expresses the universes external beliefs while the other expresses the internal beliefs,   "I see the sciences as our attempt to influence the universe that external to us, and in a similar way, the arts are our attempt to express universal events that are internal."
Jemison's words evidently sparked ideas in each audience members brains, as they stood to give her a standing ovation.  Even the littlest in the room, the aspiring NASA astronaut rose to her feet with a newfound state of curiosity surrounding her budding future in the sciences.