Surviving Valentine's Day as a single person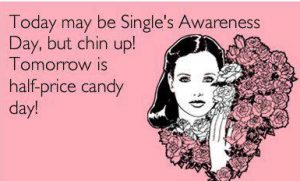 Valentine's day is all about love, and relationships, and all things sappy. What do you do when you don't have a significant other on the day of love? Valentine's Day could seem almost dull and sad for someone with no one to celebrate it with, but the good news is that this day is about more than just romantic love: anyone can celebrate it with someone they care deeply for. Friends are great people to give gifts to and make memories with on this day, or you could even focus on yourself instead! If you're single as a pringle and can't decide what to do, here is a list of things you can do on Valentine's Day as a single person.
Stuff your face with candy (preferably not alone). Valentine's Day candy is one of the biggest things about the holiday, and masses spend up to billions on it every year. Why not grab a friend, put on a cheesy movie, and eat chocolate to your heart's content? Seems like a Valentine's Day well spent. 

Eat a fancy meal. Big meals are fun to enjoy at restaurants now that they're open again, and they can be even more fun to make at home. You can share with siblings, parents, and even friends to show how much you care. Pick a recipe you've never tried before or whip up a family favorite and indulge. 

Read a romance novel/watch a romance movie. If you can't experience romance on Valentine's Day this year, why not read about it, or watch it on the screen.

Rom coms

are a great way to keep the mood light. 

Wait for discounted candy to make its way to shelves. Single people don't need to pay full-priced so their S/Os can get candy on time, you can get that candy whenever. No sweat. Why not get it for cheaper the day after? Still tastes as good, maybe even more so. The sweet, sweet, sweet taste of bargains.

Have a day to yourself: do a facemask, paint your nails, take a nap. If it's your thing, do your make up, try a new hair look, make yourself feel better. It might be a little sad to be single on Valentine's Day, but you deserve to invest time in yourself, too. 

Spend the day with friends, making memories that you will keep with you forever. Friends are the perfect way to forget how single you are, so grab that other friend (or friends) and go out there and do fun things. Shopping, eating out, the movie theater, etc.