Last minute fall-theme treats
With each holiday slowly being party crashed by COVID-19, Halloween hasn't been excluded. As unfortunate as it is, trick or treating and Halloween parties are a no-go this year. Many people think they'll have to miss out on opportunities for free candy and creative costumes, but that just isn't the case. There's still discount candy at the store, virtual Halloween parties with friends, and time to make some last-minute Halloween themed baked goods. Speaking of Halloween treats, here are three easy, tasty, and fun recipes that you could make at home!
Chocolate Chip Halloween Cupcakes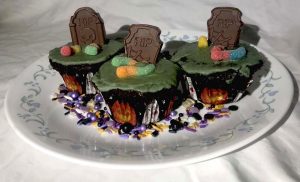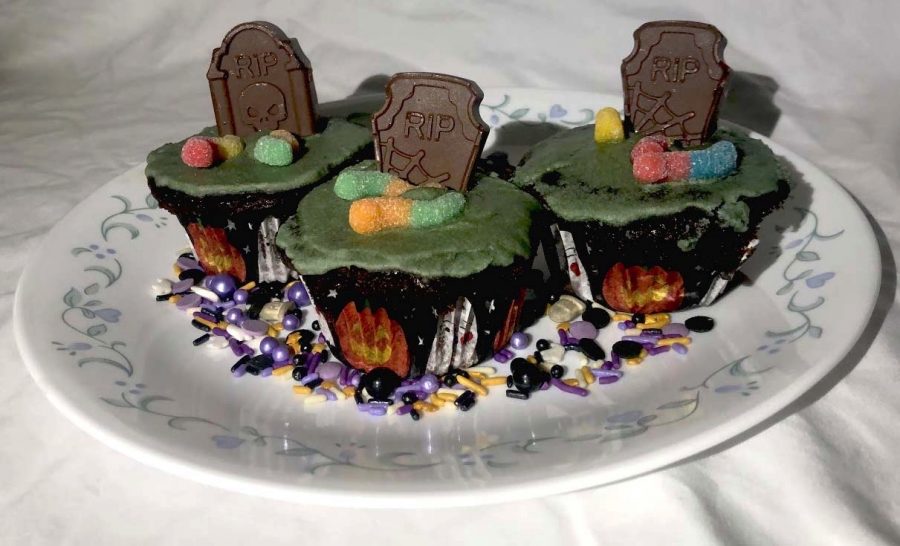 Recipe:
2 cups of flour

½ teaspoon of baking soda

1 tablespoon of baking powder

1 cup and 2 tablespoons of cocoa powder

⅛ teaspoon of salt

¼ cup and 1 teaspoon of softened butter

2 ¼ cups of sugar

3 eggs 

1 teaspoon of vanilla extract

1 ½ cups of milk

1 bag of chocolate chips
First, preheat your oven to 3500. Combine your wet and dry ingredients separately, then once both are combined, add the wet ingredients to the dry. Mix well before lining a cupcake pan with cupcake paper holders of your choice. Next, add in a ¼ cup of batter and sprinkle in a few chocolate chips; I did four per cupcake. Then, bake the cupcakes in the oven for 15-17 minutes. Make sure to check the cupcakes by sticking a toothpick through it when the timer goes off, if it comes out clean, if not put them back in the oven. Once they're done, take them out and let them cool before taking them out of the pan. Lastly, frost and decorate the cupcakes. I personally made my own frosting, dyed it, and added some edible decorations on top, but you can alway buy frosting from the store and dye it.
Pumpkin Cheesecake Ghosts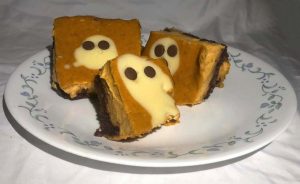 Recipe:
9-oz package of chocolate wafers

6 tablespoons of melted butter

2 8-oz packages of cream cheese (room temperature)

¾ cup of sugar 

3 eggs

3 tablespoons of flour 

½ teaspoon of salt

1 ½ cups of pumpkin purée 

1 teaspoon of pumpkin pie spice 

36 mini chocolate chips 
For this recipe you'll need to preheat your oven to 3500. Grab a 9-inch baking sheet and line it with parchment paper. First, pulse the wafer cookies into crumbs, then combine melted butter and wafer crumbs. Pulse the wafer crumbs and butter together. After pulsing the butter and wafer mixture, pour it into the baking sheet and bake it in the oven for 12 minutes. This will be the crust for the cheesecake. Once the crust is done baking, take it out of the pan and let it cool. Next, for the cheesecake, pulse together the room temperature cream cheese, sugar and eggs. Add flour and salt once the cream cheese, sugar and egg mixture is fully incorporated. Remove ¼ cup of this mixture, and then pulse the pumpkin purée and spice into the rest. Once everything is fully combined, place the crust back into the 9-inch and pour in the pumpkin cheesecake batter. Then, create three different rows. Each row should have four squares in it. For every square spoon in 1 teaspoon of the ¼ cup of batter. Lightly drag the spoon through the batter in an S-shape to make the ghosts. Now, bake the cheesecake for 30-34 minutes, until the edges are set and the center is a little jiggly. Lastly, when the cheesecake is finished baking set it out and let it cool for at least two hours before adding the mini chocolate chips on each ghost. The chocolate chips will be the eyes and mouth of each ghost.
Candy Coated Pretzels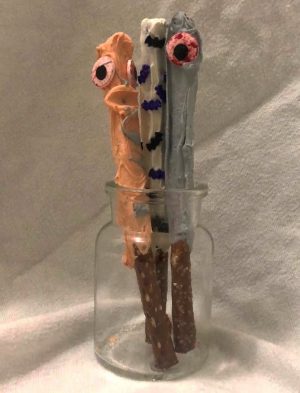 Recipe:
12-oz bag of Snyder's of Hanover Pretzel Rods
1 bag of white melting chocolate
This last recipe is super simple. First, find a pan and line it with parchment paper. The pan will be where the pretzels rest after getting coated. Next, melt approximately 3 cups of white chocolate, and melt more when you get low on chocolate. Now, take the pretzel rods and dip ¾ of the pretzel into the melted chocolate. Set the pretzel on the parchment and decorate it before it cools completely. I personally dyed my chocolate and used sprinkles to decorate my pretzels, but feel free to do whatever feels best. Just remember to enjoy yourself and have fun!