It's time to celebrate art with Inktober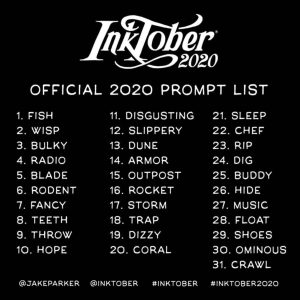 Fall is among us! As we start October we see the leaves of many beautiful colors falling off the trees and the air beginning to get a little cooler. But that's not the only thing starting in October, it is the ultimate art month, which is why it is also known as Inktober to many people all over the world.
Jake Parker created Inktober in 2009 as a challenge for himself to improve his skills and develop positive drawing habits. Since then it has grown into a worldwide endeavor with thousands of artists taking on the challenge every year. There are two ways to participate in Inktober. Their first is Inktober Classic which is the main one going on right now. Inktober Classic is only for the month of October, it is 31 days with a brand new drawing prompt every day. The challenge is to draw every prompt every single day for all 31 days of October. The other option of Inktober is called Inktober 52. With Inktober 52 you also have a huge challenge but a little more spaced out than Classic Inktober. When participating in Inktober 52 you have a new drawing prompt for every week of the whole year, this is why it is called Inktober 52 because there are 52 weeks in a whole year.
Anyone can participate in either Inktober challenges, all you need to do is pick up a pen and start drawing the prompt for that day or week. You can do any form of art you want, digital or hand drawing, pretty much whatever you're comfortable with. Once you start doing Inktober or need help to get some ideas flowing for a prompt simply go on any social media and look up the hashtags #Inktober or #Inktober2020 and your screen will fill with hundreds of artworks from people all over the world. You can even look up the hashtag Inktober and the name of a certain prompt you're looking for and you're sure to get ideas from other artists. But once you start you should return the favor, post your artwork with the same hashtags to help others out and let others appreciate your take on that prompt! So, if you're an artist and have never tried Inktober I highly suggest you start now! If you don't really draw but want to try to start to get into it more, do this! This is exactly what Inktober is all about, for anyone and everyone to draw and improve their skills over the course of the challenge. So fellow artists and new artists, good luck and have nothing but fun while creating during Inktober this year!