Not "Coronacation": students struggle to fill the void left by school in the wake of cancellation
What Happened?
On Thursday, March 12th, Governor Gretchen Whitmer made the monumental decision to close all K-12 schools in Michigan until April 6th as a way to combat the spread of Covid-19. That would be the first day of Spring Break for Portage students, which made their return date April 13th: a full month away. 
The following day, the school was filled with a heavy, disquieting silence as students came to terms with what this truly meant for their school experience. Students elbow-bumped teachers they wanted to hug. IB seniors held their own graduation ceremony. Mostly, there was uncertainty. 
 "When our school closed down, a number of questions arose regarding academics and athletics. Our baseball team had big plans to go down to florida for spring break and then head to Indianapolis for a big baseball tournament," shared junior Jack Eiden. "Now, with the beaches in Florida getting closed down and our big tournament getting cancelled, it definitely opened my eyes that some things are bigger than athletics." 
The district has been keeping the Huskie families in the loop with daily updates through email, Skyward, Facebook, and Twitter. Topics of interest have been food distribution to families who need it, Chromebook distribution to families without devices at home, and the cancellation of IB, AP, and SAT testing for this year. "I want to thank you for your patience
and understanding as we seek to provide the student and family supports that are needed during these challenging times," superintendent Mark Bielang stated in a message to PPS families. "We recognize how disruptive this has been to daily lives." Students, however, are the ones that fully understand just how significant this school closure has been, particularly as they find new ways to fill the voids that have opened up in the wake of the school closure. 
Academic
When school dismissed for the last time, the assumption was that classes would resume online. Due to a number of factors, this has not happened. "The Michigan Department of Education has made clear that we must consider specific elements if we transition to online learning as a substitute for our traditional method of learning," said assistant superintendent of instruction Dr. Michael Pascoe. The elements are: Do all students have access to appropriate learning devices? Do all students have access to the internet? Can the district successfully support the needs of all learners, including students with Individualized Educational Programs (IEP), students with a 504 plan, English learners (EL), and other students who may need accommodations? Have educators previously participated in professional learning opportunities that prepared them to transition teaching and learning online successfully? Have students had enough prior exposure to blended or online learning to be successful? Does the district have online tools available to effectively support instruction (i.e., a learning management system)? "Because we have not met all of the elements above, we cannot instruct online as a full substitute for traditional teaching," he shared. 
"Trying to learn what the plan is for continuing education has been pretty stressful for me," said junior Evan Wahmhoff. "I personally like structure, and this change of environment has definitely taken a toll." Wahmhoff has taken to KAMSC (Kalamazoo Math and Science Center) to fill his academic void and actively uses the resources provided by the district to maintain his brain power. 
In lieu of online classes, individual teachers have begun sending optional and ungraded opportunities to keep their students thinking. Math teacher Megan Neterer sends out past IB papers for her students to fill out. Foods teacher Emily Anthony is sharing what she calls "Enrichment Activities" for her students to keep up in the kitchen. English teacher Ben Neal, known for his eccentric teaching style, has extended his classroom to YouTube. Every week, he does Funky Friday: he starts the period with a dance move from his favorite book, "The Best Dance Moves in the World…EVER." This tradition is just one element of his new video class, where each segment follows the COVID-19 acronym he created:
Characters in Lit
Outstanding Writing
Vocabulary
Important Advice
Dance Move of the Day
19 Minutes or Less
 "I think they're a fun way to keep the subject material in students' brains!" shared senior Malia Sinkler, one of Neal's IB English II students. 
At the opposite end of the grade spectrum, freshman Mariah Gresham is struggling with keeping up in her first year of high school with this new experience.  "I'm really bored and unchallenged," she said. She's not the only one facing this boredom: one look at students' Snapchat or Instagram stories is enough to illustrate that this is a school-wide feeling. 
Along with individual teachers sharing their enrichment activities to help combat boredom, the district has also launched a new Learning at Home web portal for PPS families. The site, which gets more resources daily, is intended to help students keep their skills sharp until school resumes. 
Social 
One of the hardest parts for students is being unable to see their friends. Obviously, there's texting, social media, calling, Facetiming, and numerous other things. However, studies show that face to face communication in our ever growing digital society is incredibly important for many reasons. These reasons include less miscommunication due to misreading a message, the ability to communicate using body language, and ensuring engagement. 
"I'm a little sad sometimes just because I miss my friends," said sophomore Liah Heintz.  This general ideology is mirrored in many students' minds, and there have even been memes flying around about 'testing positive for missing the homies', a word play on Coronavirus testing.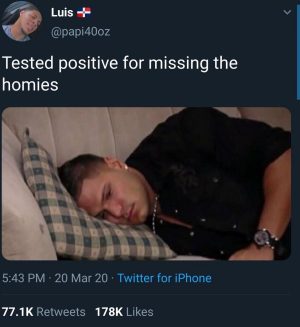 Many students feel lost and untethered without seeing their friends everyday, and for some, social interaction is required to maintain a state of well-being.  "I feel devastated about that," said freshman Sarah Salih. "Seeing my friends usually is the highlight of my day." Though this can be achieved through texts and calls, there is nothing more soothing than the calming touch of a friend for some people. Even just sitting quietly in the presence of someone who cares can be enough to calm an anxious and sad teenager. 
The social isolation was increased on March 23rd, when Governor Whitmer issued a "stay at home" order. "It's difficult staying inside all day and not going anywhere, but I understand why it has to be that way," Gresham lamented.  With no school, no sports, and for many, no jobs, students are facing unprecedented amounts of alone time. "I still get really bored and sometimes I feel like I'm going crazy because I don't have anything else to do," said junior Rachel Sonith. 
Emotional 
This total isolation comes at a steep cost for many teenagers: their mental health. Whether this comes in terms of sadness, anxiety, anger, or any other form, the isolation weighs heavily on students. 
Some Huskies had huge plans for this time period and their spring break. Sinkler's birthday was March 23rd and, as it was her 18th, she wanted to be able to celebrate in grand style.  Thankfully, this was before total lockdown, so she was still able to celebrate with family, but it still wasn't as she had imagined. "Emotionally, I'm not doing great," she said. "We've had to cancel our two trips to tour my college and it's just all frustrating." Sinkler is committed to Marymount Manhattan, which is in New York and the epicenter of the coronavirus crisis in America. As a senior, losing these milestones, as well as the possibility of losing prom and graduation, makes the whole situation that much worse.
There is also the anxiety that comes with this uncharted territory. "Not knowing what's going to happen or how bad it's going to get is what scares me the most," shares freshman Emma Klien. She is not the only student facing this problem: once again, a look at various social media outlets will show just how anxious everyone is to face this situation with no idea what comes next.
What Now?
While the primary concern with COVID-19 is the public health concern, the virus has impacted much more than that. Students are dealing with the academic, social, mental, and emotional fallout of a school year that has been irreparably scarred. Even if we do resume on April 13, nothing will be the same. Despite this, there is hope: "Each generation has their "reckoning" of sorts," said senior Maren Case. "I guess this is ours."