The NL staff says goodbye to graduating seniors Astrid Code and Miles Slocum
Video by Jaclyn Brubaker, Abby Hosler, and Ella Morofsky

These NL staff members have devoted countless time to telling the stories of others. As one final thank you, the NL underclassmen surprised them with a two-page spread in the senior edition by telling THEIR stories. That story is reprinted here along with their senior video tribute.
---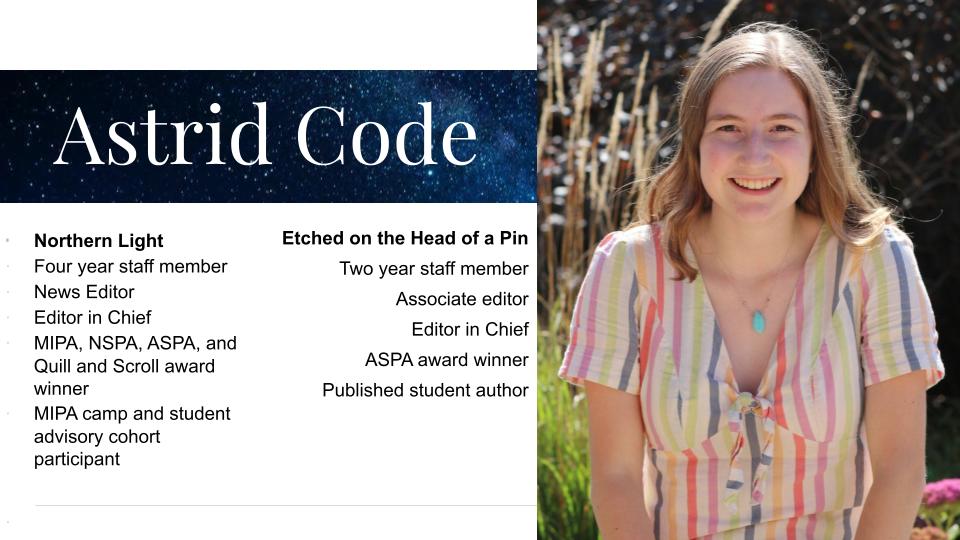 Editor in Chief Astrid Code has been a vital member of the Northern Light staff since her freshman year. Code's interest in journalism stems deep: when she was in third grade, she started reading books called The Landry News, which unlocked a love for journalism that Code still has today. Shortly thereafter, Code and her twin sister, Mai Elise Code, started their own little newspaper called The Eagle together. This would give her the confidence to start a newspaper not just for herself, but for her classmates, when she got to middle school. "In 6th grade she wanted to do a real newspaper and she started it up from the ground," explains Mai Elise. "She, together with a friend, started the school newspaper at West Middle school called the Pioneer Press," says her mother, Karin Code. "Astrid is very conscientious about everything she does! She wants to do her best for the benefit of others and herself."
Code's hard work as a member of the NL staff has earned her the respect of her current and former classmates. "I've been fortunate enough to work with Astrid since she was a freshman, I just remember very early on she was one of the most eager and excited staff members post J1 that I'd ever encountered," shares previous Northern Light Editor in Chief and Class of 2021 graduate Kylie Clifton. "Her love for journalism and the Northern Light was incredibly clear from the very beginning."
Code has had the opportunity to influence many people during her time at PN, whether it was as a violinist and concertmaster in orchestra, a member of the GSA, editor of the lit mag, or a social activist, she actively works to create a space for everyone. This capacity to care about others wholeheartedly translated into her leadership in the newsroom, too. "She is always the one offering ideas to others and ultimately just helping out," shares NL associate editor Jackson Barnard. "The best thing Astrid brought to the Northern Light is a friendly environment!" says NL staff member Annabell Bartz. "My favorite thing about Astrid is her supportiveness! One time Astrid helped me finish up a page so I could handle some personal stuff."
NL adviser Amanda Thorpe, who worked closely with Code to sustain the NL through the pandemic, credits her positive attitude as an integral part of the program. "Her positive energy is contagious, and she's got a quiet grace and emotional maturity about her that commands respect," she explains. "She advocated for a lot of changes to the way we do things this year for the mental and emotional health of her staff, and because of the person that she is, I trusted that these were the right calls. Of course, she was right."
It will be hard for the Northern Light staff to say goodbye to Code, but it will no doubt be as difficult for her to say goodbye to them. Her classmates, however, are confident that she will be able to continue to use her leadership abilities, kindness, curiosity, and creative skills to impact peoples lives the way she has impacted their lives. "I hope she is able to find a career where she is able to use her passion and energy for change to impact the world for good," says Thorpe. Anyone who has been lucky enough over the years to have gotten to know Code knows that this will most certainly be the case.
Northern Light's associate editor and lead photographer, Miles Slocum, has been on staff since his junior year. Slocum is the person to go to when you need some top-tier photography. With his knowledge of cameras and great ideas, his staff members count on him to get the perfect shot – even if he has to lay on the floor or crouch in an awkward spot to get it. Slocum has aided the Northern Light with his photography skills for the past two years, and this work most recently culminated in two MIPA state championships for his news and sports coverage.
Not only is Slocum an incredible photographer, he also is a kind and gentle person. "[He's] mostly just really fun. Miles has a great sense of humor, and he makes really spot-on observations about the world around him," says Northern Light adviser Amanda Thorpe. "The more we got to know each other, the more comfortable he got, and now he even makes fun of me sometimes and I can't even be mad because he's always right." Northern Light assistant editor Brie Quick shares a story that encapsulates Slocum's kind and helpful attitude perfectly: "He sent me a giant paragraph explaining exactly how he does pictures, and that was probably the best advice." Classmate and associate editor Jackson Barnard shares, "I was impressed by the things he was capable of. . . he understands that some people aren't very skilled in specific areas, like, for instance designing, and he is able to give his advice on things that he is basically an expert at."
In addition to serving on the NL staff, Slocum is also a member of the bowling team, and sometimes those worlds intersect. This was the case this year, when he got to share the newsroom with his bowling teammate Lexi Keene. "Well he started with drawing first, and he would show people which was really cool, then he started taking pictures and just took off," she shares. "He knows what kind of emotion he wants in the pictures, and is able to put a smile on anybody's face."
Slocum started to get into photography during the last three to four years. "His interest grew from snapping photos on vacation and hikes with a smartphone to having the desire and know-how to capture the same images even better," explains his mother, Aimee Slocum. Even though he took to it right away, Miles continues to explore photography, asking a lot of questions, reading through books, and trying new and different things with the camera. "When he is interested in something he gets really into it and does his best to make it a hobby," elaborates his sister, Madilyn Slocum.
The Northern Light will deeply miss Miles Slocum as he moves on to the next stages of his life, for both his incredible photography and his wonderful personality. Whatever he does in the future, the staff hopes he will be able to keep honing his creative skills and will always remember how to capture the best pictures of life. "Miles is a gifted photographer and graphic designer, and I hope he makes time to nurture these talents, even if he doesn't use these skills as a part of his career," says Thorpe.