"You were our Mary Poppins": how Covid gifted me with an unexpected bond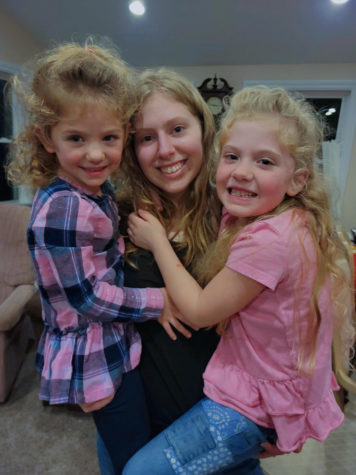 If you were to ask my family who I love most in the world they would tell you, "Her cousins, Kayleigh and Sammie." They would be right. During Covid, my Aunt and Uncle were in need of someone to watch their little girls. My Uncle, the CEO of RxOptical, still had to go to work. While my Aunt, the business manager for Western Michigan college of arts and sciences, worked from the basement. I decided to step up and ended up being their "Nanny" for a year and a half, watching their 4-year-old Kayleigh, and their 2-year-old Sammie. I was living at their house Monday through Friday.
It might have been the hardest thing I ever did. Not because they were stir-crazy toddlers and they were glued to my hip 24/7, not because I was only 12, but because it became what made me happiest, it became my purpose in life. I taught Kayleigh how to write her name, and how to be more kind to those around her. I taught Sammie her ABCs, and how to swing on the swingset, by herself. They both taught me how to be more patient and that I never want to have to potty train a 2-year-old again. 
At nap time I would lay Sammie on my chest and we would sway back and forth singing "My Eyes Adored You" by Frankie Valli until she fell asleep. Kayleigh would come to my room every morning. She would crawl into bed and snuggle with me, saying, "Abby, will you please wake up and make breakfast?" Then I would open my eyes and there she would be. So we would go upstairs and I would get her and her sister their favorite – which at the time was cinnamon toast crunch cereal and some fruit, it quickly became my favorite too.
During the day we would turn their playhouse into our pirate ship and search the backyard for treasure, we had to get to it before Captain Hook could. By the end of the day, we were bundles of smiles, dirt, and popsicle juice.
In the end, they didn't feel like cousins anymore, they felt like my children, my girls. I was tired, I was worn out, but then I realized I had to give them back, and that broke my heart. But it wasn't a choice, I couldn't keep them, I couldn't "play mom" forever. I had start the 8th grade online because of covid, I just had to do it. 
After I gave them back, I didn't see them for months. In the meantime, my aunt and uncle found a new nanny, and then another new nanny, and then another new nanny, but they couldn't find a nanny like me. "We just couldn't find anyone as good as you were, you were our Mary Poppins," my aunt told me. 
When I finally got to see them again half a year later, there was no time to take turns giving hugs. It had been too long. I scooped both of them up in my arms and held them as close as possible until my arms ached. I was finally with my girls again.