Battle of the Bands
Cousin Avery
With a new album on the way, Colin Killmer, a science teacher at Portage Northern, and his bandmates have been hard at work for the last couple months. While balancing their full time jobs, and family lives, Killmer, Marcus Taylor, Ed Martini, Jason Bryant, and Jeff Brant have been writing, and recording songs for their upcoming album.
  The band name, Cousin Avery, is inspired by Dear Avery, a song by The Decemberists, and it is a folk or indie rock band.
  When the band started a couple years ago, Killmer was playing bass and viola with a different band when a singer/songwriter in town asked him to help form a group to record some songs. "We clicked and have been together four years now," says Killmer.
  Killmer mostly plays the viola and mandolin, all of the members are multi-instrumentalists, so they can adjust what instruments the play based on what the songs call for.
  Killmer, and the other band members have become dear friends over the years and really enjoy working together. "Our musical partnership has lasted longer than any other project I've been in. From the day we met and worked on our first song, we had a chemistry that is largely driven by his passion to create music that connects us and those that listen," says Marcus Taylor, the guitar player for the band.
  Cousin Avery recently reached a major milestone as their last album has been nominated for Best Americana/Roots Album and for Album of the Year in the regional Jammies awards, sponsored by WYCE, a radio station (88.1 fm), in the West Michigan area. They are all pretty excited about it and are looking forward to viewing the results on February 8th. "We are all honored and humbled to be nominated…we take our music seriously and it's always nice to see others recognize and appreciate what we create," says banjo player, Ed Martini.
  In addition to recording songs in the studio to post on spotify, itunes, apple radio, and youtube, Cousin Avery performs live once in a while. "We do play concerts, about once every month and a half," says Killmer, "We are playing at  Bell's on 2/7/19, and are working on a few other gigs."
Shades of Mourning
What first started out as a fun and relaxing jam session with his friends became a creative passion for Lucas Rewa, a social studies teacher here at Portage Northern.
   "One of my friends had a class with a guy that wore cool metal shirts and seemed to be into the same types of music that I played," says Rewa. "She found out that he played guitar and we went to her house to jam. After that we liked what we were coming up with and started trying to find other people to play."  They soon made some fliers and put them up throughout Western Michigan University's campus. Although most of the people who replied to the flier were not a good fit, they did find the drummer of the band, Dru Millerwise.
  "After that I kind of just pulled in a couple of my cousins [Aaron and Brian Rewa] to be in the band too and we eventually got a bassist [Nick Blaisdell] and the rest is history…" says Rewa who played guitar, bass, and did most of the harsh vocals for the progressive and melodic death metal style of music that the band created.
  As co-founder of the band, Rewa was a strong leader. "He [Lucas Rewa] kept us on track, booked us shows, found us a place to practice and a ton of other things. He really made most everything we wanted to do with the band possible," says Roger Sprau, the band's guitar player.
  In addition to having a Bandcamp where listeners can pay to listen to Shades of Mourning's music, they used to play shows in 2009 and 2010 before they split up and moved away as a result of "the whole growing up thing," as Rewa says. They did however release an album in 2016 after working to get cd's and cover art made.
  Although it has been years since their split, many of the band members would still like to get the band back together. "True friends are a rare thing to find.  You really need to take advantage of that opportunity.  More than that, working together towards a common goal makes some of the most lasting memories you will ever have.  Music is a great way to do that," says keyboard player, Brian Rewa.
https://shadesofmourning.bandcamp.com/releases
About the Writer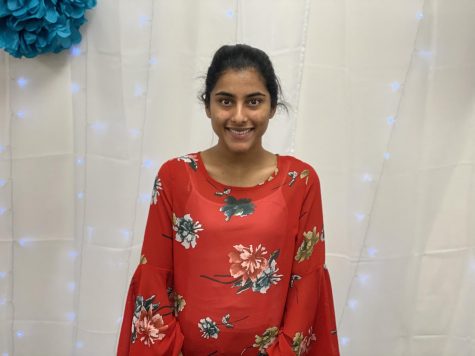 Snigda Narisetty, Editor in Chief
Snigda Narisetty, Senior
This is sadly my last year on staff after 3 years. I am one of the Editors-in-chief this year, and I'm so excited to see what...