Horses and hospitals
Taryn Ortiz, Journalism 1 Staff Writer
November 21, 2017
It was 11 am, and I a 9 year old, was next door at my neighbor's barn playing around with my horse Montana who was a brown and white paint. With one eye blue and the other brown, she stood 15 hands high. Sitting by the fence while Montana stood by me grazing with the neighbors mule, I suddenly had an idea that Montana and I would play a game. Her and I had a kind of relationship I never had with any other animal. She was a great part of me as a kid.
I stood up, not thinking, behind Montana's rear. Just then, I saw my sister coming from our house. She came over and stood by the fence to watch Montana and I mess around, but just before I could do anything, Montana jumped forward and threw her back legs in my direction. I felt her hoof contact my lower face. The contact was hard, harder than anything I had ever felt before. I brought my hand to my face as I hit the ground, and pulling my hand away, I saw blood. I started to feel weak and I couldn't believe what had just happened. I look up trying to avoid what was in my hands and saw Montana running off, scared.
Sitting there, I begin to cry uncontrollably. Not knowing exactly what to do, kept holding my face as my sister stood there with a blank expression. "It first happened I kinda laughed, but when I saw the blood and began freaking out," recalls my sister, Paityn. I began screaming and telling my sister to run home and get our mom. At first, I don't think she could understand what I was saying after seeing what had just happened. She finally got what I needed her to do and ran quickly home to our house.My jaw was throbbing.
After waiting for too long, I decided to try making my way home. My sister came out out and helped me get my mom, and when she saw me standing there, she freaked out. "I was dying my hair at the time, but when I saw, I was very scared and wondering what the hell happened,"  says my mom. She gave me a warm rag to rest on my mouth, quickly rinsed her hair, and grabbed our things and headed to the car.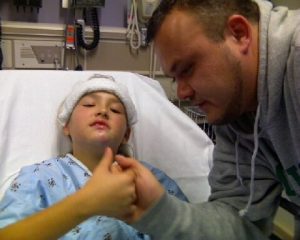 Once we had made it to the hospital, we walked in still holding the rag to my face. I stood at the front counter with my mom as she spoke to people telling them what had happened. They quickly got me in and had me in the hospital bed waiting for what for what to do next. After a little while, my dad had showed up and looked just as confused as my mom had looked earlier. "My first thought was holy crap, I hope she's okay. I could only think that your face was shattered, and when I came and saw you in the hospital bed, I thought you were okay because you were talking," says my dad, who tried cheering me up by playing a game of thumb war.
The doctor came in and took me to get an MRI to make sure no bones were broken and no teeth were lost. Miraculously, all was well: no broken bones or lost teeth, just a swollen lip and chin. We were then told by the doctor that if Montana had kicked an inch higher, I could have died. The news was crazy, but I was grateful to have lived through it and to be here today. I now have a stronger love for horses, which is weird to fathom, and a better understanding of how strong and powerful horses really are.