Where to go this weekend: orchards and farms
Fall is here and pumpkins, mazes, donuts, and cider are all in full swing! There are several places to enjoy these amazing fall festivities, but here are some of the best places to submerge yourself in the spirit of fall.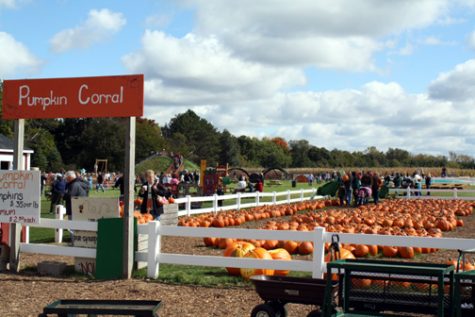 Gull Meadow: The first place that comes to mind when thinking fall festivities is the ever popular Gull Meadow Farms. Located in Richland, Michigan, this fall hotspot has everything and anything related to fall. There will never be a dull moment at this farm with several activities to do, such as doing the Corn Maze (or night maze for a more challenging course), picking out pumpkins and apples, going on the hayride or zipline, and shopping in the market that sells amazing pumpkin donuts and apple cider. So if you are looking to get into the spirit of fall, definitely check out Gull Meadow farms.
Verhage Fruit Farms: Smaller in size than Gull Meadow but still packed full of fun activities is Verhage Fruit Farms. Verhage is located in Kalamazoo and has everything from ziplining to riding horses to jumping around in a giant inflatable pumpkin. "I love Verhage. I've been going there ever since I can remember and the zipline is my favorite," said Abigail Allen (11). This fall hotspot also has a variety of delicious donuts and baked goods (not to mention their exceptional homemade cider). Definitely stop by Verhage before fall is over because it's an experience you 'donut' want to forget.
Crane's Orchards: Farther away from all of the other options, but definitely worth the drive, is Crane's Orchards, located in Fennville, Michigan. This orchard is packed full of fun festivities such as hay rides, corn mazes, picking apples, and a full on restaurant that serves the best fall foods. They specialize in Michigan fruit pies and desserts with a bakery that sells cinnamon rolls, cookies, and cider donuts. Some come out to Crane's to ride some family friendly rides and eat some delicious pies, you won't regret it!