A moment in Black Lives Matter plaza
As I walked along the fence guarding the White House in November, I was filled with an overwhelming sense of pride. It filled me with hope for progress, not just for Black Americans, but minorities as a whole. Things were going to be different. I could feel it. 
Months earlier, I was stuck at home like the rest of the world, trying to decide if it was more morally right to march for social justice or stay inside and help flatten the curve. I watched online as people around the world, people who looked like me, joined their allies and marched for what they believed in. What I believe in. 
Now, I was finally able to stand where they stood. Right in front of the White House, I could almost feel their words and emotions lingering in the air. There were hundreds of signs taped, woven, zipped, and tied to a fence guarding the President's doorstep. They formed a wall that could no longer be ignored and made visible a hurdle that we as a country must face head-on in order to progress. 
I've heard people say that we have become overly sensitive this past year, but I see it differently. I see large groups of people no longer tolerating racism and social inequality disguised as humor or jokes. I see people that are tired of others telling them what can and can't hurt them when it directly affects them. I see people who are tired of accepting lame excuses, not being taken seriously, and being ignored. I see myself. 
This last year presented everyone with unprecedented time to reflect and reevaluate ourselves, our decisions, and our lifestyles. As we did, many of us decided that we couldn't sit on the fence and passively watch the world get worse by day. Everyone has different perspectives and every person has their own nuanced opinion, but there is still a right and wrong side of history. 
According to the Pew Research Center, six in ten Americans believe our country needs to make more changes to increase racial equity. People of varying races, religions, and ethnicities are coming together to make that abundantly clear, and that energy is what I felt standing there in Washington, DC.  The signs in Black Lives Matter Plaza represent a call to action and a challenge of this country's ability to improve and better itself for the betterment of all of its citizens. They question this country's decision to hide behind a thin veil of lies, remaining willfully ignorant and gladly erasing its history just for the sake of public image. 
They make me wonder: when the fight is no longer on national news, will we assume it's over? 20 years from now, will we be marching for the same things? This year was just a stepping stone to more progress for more people: it's up to us to turn a moment into a movement as we learn, evolve, and grow as a nation.
About the Writer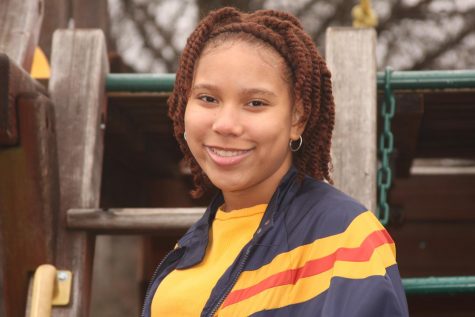 Maya Daniels, Opinion Editor
Maya Daniels is a senior and this is her second year on the Northern Light staff. "I had done some journalism work before," she shares, "but I really...