Two Huskies participate in fall national signing day
Covid-19 had the capacity to disrupt the fall sports season, but many student athletes refused to let it impact their futures. For two Portage Northern students this was especially the case: seniors Molly Freeman and Treyton Gabrielson both participated in fall's first national signing day, which was for all fall sports except football.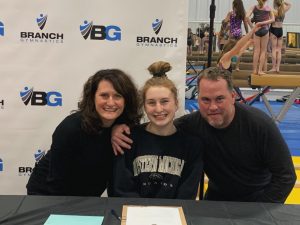 Freeman will be furthering her gymnastics career at Western Michigan University. "I chose WMU to continue my gymnastics and academic career because it had the major I wanted to pursue, I had an opportunity to compete on the gymnastics team and do what I love, and I have always been a Bronco fan ever since I was little," says Freeman. 
She was also happy that she could have family with her when she was signing amid tightening Covid-19 restrictions. "I was just glad my parents and grandparents could come and watch," says Freeman, who has been tumbling since she was 8. 
Her parents tried to get her into other sports, but it never really worked. "We tried to introduce her to other sports as well, but she was always upside down and on her hands more than her feet," says Molly's mother, Carolyn Freeman.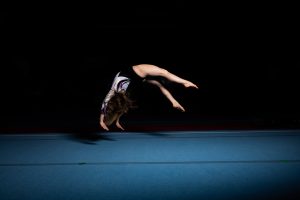 Her passion was not without sacrifice. Freeman has had to give up on some of the things that most high schoolers love to do, such as going to football games and school dances, but for her, it was worth it. "I can honestly say Molly never complained about missing these activities or about going to practice. Gymnastics was and is her passion and she had a goal to compete in college and was willing to do what it takes without regret," her mother says. 
Along the way, Freeman replaced memories of traditional high school events with gymnastics ones. "My most significant memory would have to be qualifying to level 9 Eastern Nationals in 2019 with my best friend," she shares. "It was both of ours first time qualifying and we had so much fun." 
Courtesy of Molly Freeman
Since then, the pandemic has had a significant impact on Freeman's training. "For months, my gym was closed. Instead we turned to practice on Zoom every day," she explains. In the meantime, she is motivated by hope for her next steps, including competing for WMU. 
"It [signing] was super exciting, and I am so honored to have a place on the amazing team!" she shares. Not only was the day exciting for her, but it was also a happy day for her family, who had watched how hard she had worked continue at the collegiate level. "Molly's signing day was a day that me and Molly's dad and her siblings could see her rewarded for years and years of hard work and is one step toward her goal," her mother says.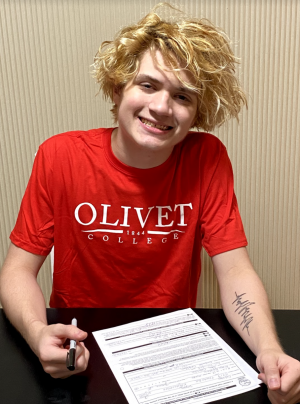 Freeman was joined on signing day by swimmer Treyton Gabrielson, who will be furthering his athletic career at Olivet College. 
"I knew that I wanted to swim for Olivet College once I went to the campus and met with the coach and some of the team members and felt instantly at home," Gabrielson remembers. "The coach reminded me of my coach now. I knew that going to Olivet meant going to school, but it didn't feel like a school, more like a cool community." 
Like Freeman, he didn't get the traditional opportunity to get to do the signing at the school due to the pandemic, but he was able to complete the ceremony at home with his mother. "It was one of the best moments to know that I was wanted to swim at a college and that by signing I was about to reach one of my goals," he says. 
Gabrielson first started to swim when he moved to Michigan at the age of 4. "My aunt had an outdoor pool at that time and she wanted to make sure that I knew how to swim. I started swimming lessons and never stopped," he explains.
Even though he has never stopped swimming, there was a point when he wasn't sure that he was going to be swimming at the college level. "I think if you were to have asked him then if swimming in college was a possibility, he would have said no," says coach Jim Long, who has been instrumental in helping Gabrielson recognize his college aspirations.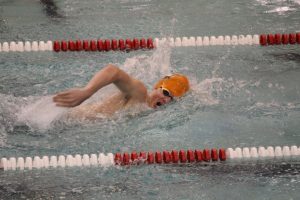 "He's [Long] really been a positive influence on me and helped me fall back into love with the sport…more than once," Gabrielson says with gratitude. 
Along the way, Gabrielson has had many memorable moments. "My favorite memory so far is swimming with my best friend Derek and making the state relay team with him," he reflects. "The friendships are something I'll never forget about this team."
Like Freeman, the pandemic also impacted his training. "When the mandate started to shut everything down, all of the pools closed, indoor and outdoor, so that made practicing really difficult," he says. Despite the setback, he has maintained a positive attitude. 
"I just don't want others to give up. I have come back a long way to get to where I want to be. COVID is making things so much more difficult and uncertain, but I am focused on the future and reaching my goals," says Gabrielson.
About the Writer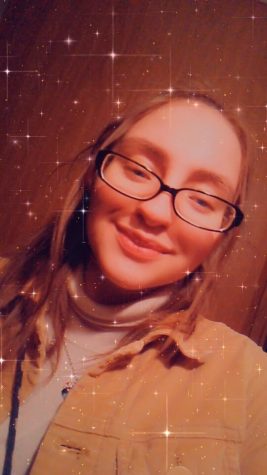 Melissah Morris-Adkins, Staff Writer
Melissah Morris-Adkins is a senior and has been a staff member of The Northern Light for 2 ½ years now. "I joined the Northern Light staff because I've...