Portage Northern Menchinger tournament
This weekend the PN forensics team crushed the annual Menchinger Tournament on their own turf. Portage Northern has been a strong team for many years and with the winners at last tournament, P.N. proved that they are not just the best team in Portage, but also a contender for the state title.
While the Huskies do not officially "take" the sweepstakes trophy at their own tournament to ensure fairness, they do find out if they win and by what margin. Northern had 6 1st place champion finishes that day and took home a myriad of other trophies for top 6. In every category, Northern had at least one competitor in finals.
First places were won by:
Abby Seeber (12) and Stephanie Scafaria (12) in Duo

Issra Said (11) in Oratory

Trinity Posey (10) in Dramatic Interpretation  9/10

Cole Curtiss (12) in Prose

Ailee Pearce (12) in Informative
Second places were won by:
Tashifa Fayyaz (12) in Oratory

Austin Vanderweele (11) in Sales

Nirvasha Singh (11) in Impromptu

Lena Lukowski (9) in Sales 9/10
Third places were won by:
Wes Hyames (12) in Sales

Megan Wright (9) in Sales 9/10

Lily Antor (11) in Dramatic Interpretation

Cortney Chow (12) in Poetry
Fourth places were won by:
Issac Reid (11)  in Dramatic Interpretation

Sydney Dudley (10) and Luke Fisher (10) in Duo

Kushi Matharu (11) in Broadcasting
Fifth places were won by:
Bella Chadwick (12) in Broadcasting

Zainab Fayyaz (10) in Sales 9/10

Josyln Miller in Dramatic Interpretation 9/10


Ryan Daniel (11) in Prose

Lexi Gavlas (11) in Informative
Sixth places were won by:
Gerrit Rummel (12) in Extemp

Madz VanWinkle (12) in Dramatic Interpretation

Hannah Perez (9)

in Dramatic Interpretation 9/10
While Portage Northern's Forensics tournament was a competition, it was a fun too. Before winners were announced, P.N hosted a dance party in the auditorium to loosen the nerves of many of the competitors. Stephanie Scafaria (12), who placed first in the Duo category, says, "I look forward to the dance party all day because it helps me de-stress before they announce the winners."  It was not all fun and games, however. Forensics coach CeCeWeeks shared, "Northern was host to 15 schools and well over 350 competitors and a total of 500 visitors this past weekend (March 11th) at the 42nd annual Menchinger Invitational.  The tournament got off to a rough start when the doors weren't open and then there was a glitch in the schematic, so we had to re-print all of the schematics and change all of the judging assignments in about 45 minutes…a job that usually takes all week to put together.  We had a great team who was more than capable of working together to solve the problems and by 9:00 the tournament was back on track.  The tournament ended up being very successful thanks in large part to the students and parent volunteers who organized the food, ran things around, and basically took care of everyone. So…a bumpy start to an otherwise very successful day."
Tashifa Fayyaz (12) is a third time forensics competitor, she says "I love forensics because it allows me to talk about issues I am passionate about while also gaining practice in public speaking and other aspects that will be helpful in my future." Overall, in every category a Portage Northern had someone place which is a huge accomplishment. PN forensics is in action next at P.C on March 19.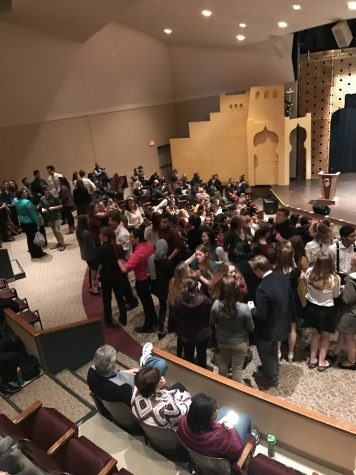 Forensics competitors waiting for the winners to be announced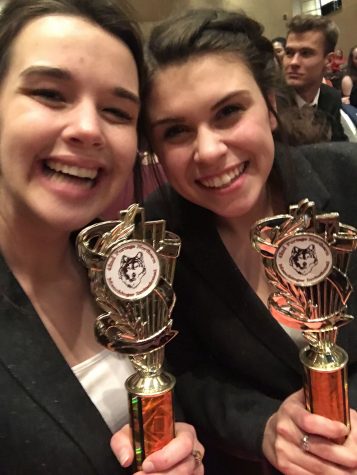 Stephanie Scafaria (12) and Abby Seeber (12) smile after winning first place