Student dancer Vu Le wins talent show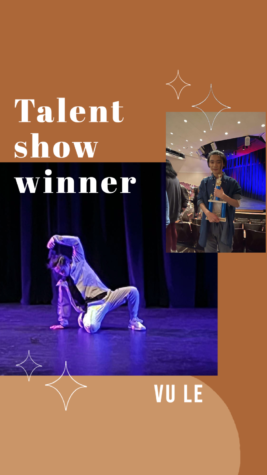 On Friday April 8th, Portage Northern's Student Senate held their annual Student Talent Show (well, annual with the exception of the past two years due to obvious reasons). An abundance of acts were showcased, each prepared with heartfelt effort. 
Before the show, two rehearsals were held. This gave each performer a chance to feel the stage atmosphere and properly prepare for the big night. When the day of the show finally arrived, each performer was dressed in their best attire, ready to put on their best act. 
At the end of the show, first, second, and third place were awarded with the judges being assistant principal Dr. Nate Ledlow, History teacher Lucas Rewa, English teacher Celia Weeks, and Spanish teacher Kaitie Paynich. The acts were judged based on their stage presence, professionalism and overall performance. 
The order of the acts and a description of each is listed below:
Luke Rathburn: Hot Cross Buns played on recorder

Trenton Smith: Singing "Anymore" by Travis Tritt

Alexia Grant: Singing and playing ukulele, "Riptide" by Vance Joy

Aspen Floyd: Comedy

Zane' Gardener & Alexsandra Hinton- Singing Duet, "Stay" by Rihanna

Elijah Parker: Singing "Something Stupid" by Frank & Nancy Sinatra

Sean Durbin: Acoustic guitar

Rayleeana Hayward: Singing "Hallelujah" by Leonard Cohen

Frogs & Toads: Band performance

Kimberley Tamayo: Singing "All I Ask" by Adele

Vu Le: Dance performance

Kylie Stewart: Singing "All I Want" by Kodaline
After the crowd had died down and both MC's, Jake Kavanaugh and Nick Jepson, had finished with their clever and witty commentary, the trophies were handed to the winners.
Third place: Kimberly Tamayo
Second place: Kylie Stewart
First place: Vu Le
The 2022 Student Talent Show displayed an array of events ranging from comedy to a band performance to dancing and more. A great deal of students, friends, and family turned out, turning this year's talent show into a great success.