Huskie basketball: beyond the win loss record
The start of basketball season found the men's basketball team looking to bounce back from their substandard performance during the previous season. The Huskies currently possess a 2-9 record and sit 5th in their conference. Their roster possesses a plethora of talent, so what is the rest of the story?
A coaching change
After the 2020-2021 season had come to an end, head coach Ben Neal had announced that he would be leaving his position in order to pursue a coaching spot at Kalamazoo College. "As a professional, this was the most difficult decision that I've ever made," Neal shared. "There isn't a day that goes by where I don't think of the players and coaches."
After coaching high school basketball for over 20 years, the decision to leave did not come easily. "To me, it was now or never," he explained. "It was also a chance to work with athletes who are as dedicated to the sport as I am." Neal went on to share about how in high school, students have many different priorities, but at the college level, athletes are there primarily to play their sport, so the level of focus can be very different. 
Despite the upsetting news that Neal was departing, his players still showed signs of gratitude. "I was happy for him because I knew how much he wanted to coach at the college level," voiced junior Cane Mack. Neal's attitude made him much more than a coach to several of the players: "It definitely surprised me, being that he was a great coach, and an even better friend," said senior Chris French as he discussed his initial reaction. 
Now that coach Neal was gone, Portage Northern was in search of an individual who could fill the massive hole that he had left behind. The process of recruiting a new coach was definitely a burden. "Coach Neal made his decision to leave to coach at Kalamazoo College rather late and so we were under a bit of a time crunch to get a new coach," explained athletic director Chris Riker. Fortunately for the Huskies, former Western Michigan basketball coach Steve Hawkins' name was shared by someone who worked with him at the college."We reached out and met with him to see if he would be interested and it turned out he was," Riker said. The acquisition of coach Hawkins was a huge addition to the team as he had worked with some of the most respected college coaches and had a successful coaching record. 
Hawkins' style of coaching is different from Neal's in the way that he is used to having division 1 athletes on the court, not high schoolers. "Coach Hawkins is a very good coach," said sophomore shooting guard Jadyn Walker. "He is well driven and doesn't leave too much room for mistakes." 
The team is still adjusting to the change in leadership. "The strength of our team is being scrappy and having the ability to fight back," Walker continued, "Our weaknesses are just our lack of caring and not doing what we are being coached to do." Mack agreed, sharing: "we need to improve on making sure everyone is bought into the program." 
Having a new coach and essentially an entire new team is something that requires time in order to improve. As the games progress, it is almost guaranteed that the players will begin to develop more chemistry and that they will adjust to Coach Hawkins' strategies. The story of the Portage Northern basketball team is still evolving, but with a great coach and talented players, the future of the Huskies is incredibly bright.
About the Writer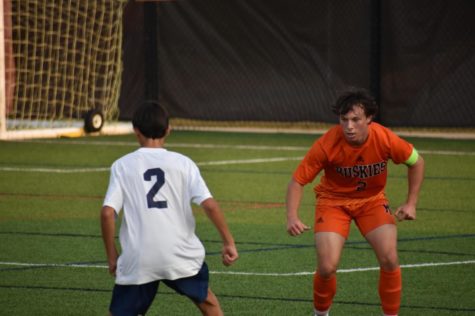 Jackson Barnard, Editor In Chief
My name is Jackson Barnard and I'm a senior this year. It is my 4th year on staff and I have previously been the sports editor along with associate editor....