Anime Club hosts Halloween party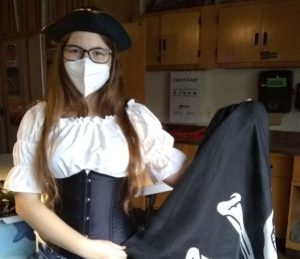 On Wednesday, October 27, Anime Club hosted a Halloween party to eat ramen and watch the Studio Ghibli classic Spirited Away. Some people also dressed in their Halloween costumes for the occasion, like senior Maggie Gross, who dressed as a pirate. "I already pirate so much anime that it was just natural for me," she joked.
Her clubmates were grateful for the choice of movie. "[Spirited Away] is actually my favorite movie," said Cadence Smith, the club leader. "I watched it when I was really little and I don't know it just kinda stuck with me. The story's really great."
Contact art teacher Sarah Nott for more information on how to join Anime Club.