GSA to host coming out day panel on Monday, Oct. 11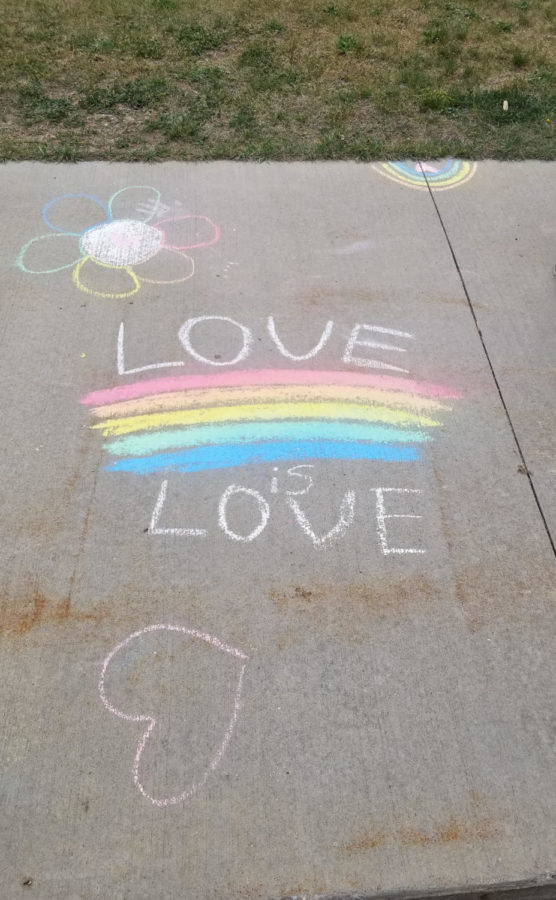 This year, for the first time, Portage Northern is hosting a Coming Out Day panel in celebration of National Coming Out Day on Monday, October 11. There is a lot of excitement surrounding the event, but there are a lot of things that took place behind the curtain to get Northern to it's first gathering of this kind.
"It was so different when I was in high school," said Spanish teacher and GSA adviser Kaitie Paynich, who graduated from PN and is also a part of the LGBTQ community. "It was a really different environment."
Paynich goes on to explain that when she was a student, instead of a coming out day, there was a day of silence. "You don't speak throughout the whole day to bring awareness to all the silence of the queer community. . .it was really horrible, like really horrible things, and it was really conservative and there were not a lot of teacher buy in," she said while recounting some of the very negative experiences that happened while she participated in the event.
The time Paynich describes was an openly negative environment and very far from the Portage Northern that exists today. The GSA has been at Northern on and off since 2002, which is when Paynich was there to participate as a student. "Even the concept of doing a coming out day, like celebration or panel, it just would have been completely insane," she said. "And you know that was in 2003 when I was in highschool, right? And it still would have been completely insane, and it wasn't that long ago."
The amount of growth that the school culture has experienced isn't just measured by the fact that there is a coming out day, but also by the large group of people that have been attending GSA meetings this year. "We have not had this number of kids since the first meeting we had in 2014 or 2015. Truly," Paynich said. Senior Isabelle Pitsch noticed the increase in attendance as well, noting: "When I first joined GSA my freshman year, there were about 7 people max, and now we have about 30-40 students. GSA has grown a lot over the past 4 years."
The idea for a coming out day developed over the summer. "I think it was June or July, I was like I have this cool idea. Let's do it. Then we started coordinating in August with Mr. Ludo cause he is kind of like our event coordinator on the admin team. That's who we always go to when we need stuff for events," said Paynich. "We started coordinating with him, and then once we got the approval from Mr. Ludo, we were able to start coordinating everything."
Paynich explained why Coming Out Day is an important thing to celebrate: "I think it's important for the kids to hear that you don't have to [come out] right now. Like Eric didn't come out until his 20s, Gideon is in their 30s, they didn't come out until like two months ago, John is 34, he just came out," she said, referring to panelists who will be at the event. "Just kind of reminding students that you can do it at your own pace. I think [it] is a reminder, cause now that it is a lot more open and we have a lot more visibility, sometimes there is this pressure to come out now."
Sophomore Avalin Tooley reinforces the significance of Coming Out Day. "It's important to make sure that students feel included and accepted," she said. "There are so many stipulations around coming out, and many students feel like they can't because of how people will react. School especially should be a safe place for this." Classmate Kearsten Carr spoke up in support: "It's important to create an environment where you can feel free to express yourself how you want to without fear of being judged," she said. "There is so much stigma associated with coming out, so to have a holiday celebrating it that is separate from pride month is really important."
With the event just days away, students are getting excited to attend. "I am hoping to hear more about our school's past with GSA and Kalamazoo/Portage history with the LGBTQ+ community," said Pitsch.
Freshman Elijah Parker shared a similar sentiment: "I am very excited for National Coming Out Day because I want to help aid as many closeted people as possible. So many people hide as something they're not for years."
The celebration and panel will take place in the library after school on Monday, October 11. The event will end around 4pm and refreshments will be provided.
About the Writer
Annabelle Bartz, Creative Editor
Annabelle is a senior and in her third year on the NL staff. She is currently the creative editor and has held that position for 2 years. In her spare...