Run: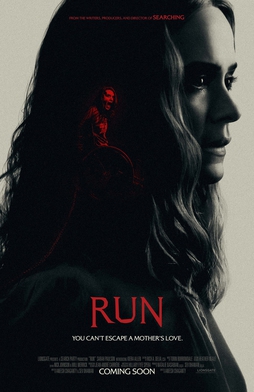 I don't know about you, but my all time favorite genre of movies are thrillers. I love the adrenaline rush I get when I watch the fast-paced actions of characters, yet most of the time sloppy (please stop tripping on air), combined with gut-wrenching music in the background. If a thriller movie is done right, it will definitely keep you on the edge of your seat. Most of the time, I am able to predict what is supposed to be a plot twist, so it came as a surprise that for one particular thriller movie, I did not see the twist coming.
"Run." is a thriller/drama film directed by Aneesh Chaganty and digitally released on November 20, 2020 by Hulu. The movie introduces Chloe Sherman (Kiera Allen) who is a 17 year old high school student. She is very intelligent, creative and resourceful, but she was born with a variety of complications; she suffers from asthma, diabetes, Arrhythmia (irregular heartbeats), Hemochromatosis (excess iron in the bloodstream) and she is paralyzed from the waist down. Her mother Diane Sherman (Sarah Paulson) takes care of her 24/7 by giving her medicine, physical therapy and even homeschooling her. As a result, Chloe is isolated from the rest of the world and does not have any friends her age.
However, Chloe is planning on attending college and moving out. This event triggers a lot of emotional turmoil within Diane and what seemed like a loving relationship between a mother and daughter soon turns into lies and emotional manipulation. It turns out that it was not Chloe who needed her mother more, it was Diane who needed her and she will stop at nothing in an attempt to keep her forever.
I would definitely rate this movie 5 out of 5 stars. The story and cinematography was very meticulous and purposeful. At a behind the scenes look of "Run." director Aneesh Chaganty reveals that he storyboarded every shot in the movie by hand before it was even filmed. In this way, he was able to smoothly include multiple details into one shot that effortlessly moved the plot forward. Chaganty's work ethic helped tremendously with the pacing of the movie as it did not feel, at any point during the movie, like scenes were cut out. 
Additionally, the emotional commitment from the actors and actresses made the movie feel so real. I could easily sense tensions rise between Chloe and her mother as the story progressed and she uncovered more secrets. Also, throughout the movie, I can vaguely recall yelling out of frustration a couple of times (okay, maybe more like 4 or 5 times, but I was invested) because the story was engaging and I grew attached to certain characters quickly. Overall, I highly recommend "Run." and consider watching the deleted scenes afterwards as they provide more details pertaining to the main characters and their relationship.