A mother, a teacher, an entrepreneur: getting to know Daniall Poulsen through a different lens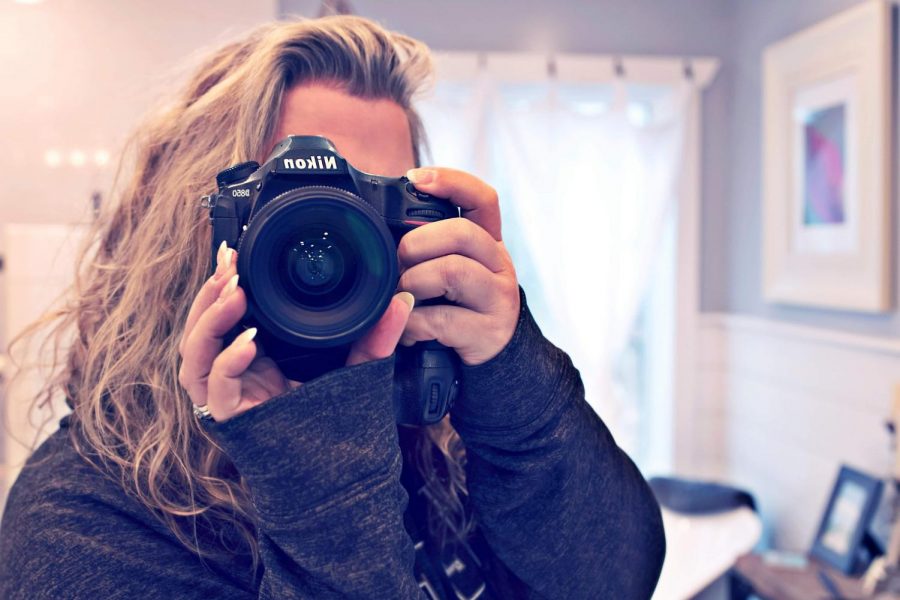 When walking into room L.114, the students and teachers of Portage Northern may think they know exactly who they're about to run into. They're about to run into a science teacher… right?
Upon initial inspection, Portage Northern's bright and bubbly Daniall Poulsen may seem to be just that. But, in reality, there's so much more to her story than grades and class presentations.
In 2012, Poulsen made the decision that would change her life—to start up her own photography business. With an interest in photography stemming from her childhood and a position as her high school's yearbook photographer, documenting life through a camera lens was not a new concept.  "I had some pretty influential people," she explains. "I had an aunt—I can remember looking at the black-and-white pictures she took and just being fascinated." While being primarily self-taught, she did take some photography classes in college and even considered becoming a photojournalist.
"When I had my own kids, I got really into photography because I was photographing them. I was catching notice," she explained, recalling that many of her family members would point out the exceptional quality of her pictures. 
"I remember this one time," she recalls. "My mother-in-law had pictures that I took of my own kids up in her locker at Pfizer at work. Her colleagues were seeing them and going 'who took them?' and it was just little old me, you know?"
As her name gained more recognition, Poulsen started to get calls from people she didn't know who were requesting her services. "I started to extend out because people were starting to see my images," she says. "People that I didn't know were calling me, and I thought that was so encouraging."
After an abundance of encouragement from her family and friends, Poulsen kickstarted her business, Daniall Poulsen Photography – Natural Light. "I started off really cheap because I was super scared," she says, "and then it just grew from there."
After the first two years of her business, Poulsen found a way to greatly increase the quality of her work by incorporating the use of Photoshop. "Before that, I was using some cheap program and it was really limiting on what I could really do as far as edit," she adds. "But then I learned Photoshop is a beast, oh my gosh. And the more practice I got, the better quality I felt my images were."
Five years after the start of her business, Poulsen made the decision to drop her full-time teaching down to part-time. Because the start of school and photography seasons overlap, Poulsen found it increasingly difficult to teach, photograph, and truly be available to her husband and three children. "It was overwhelming," she says. "I was always in front of my screen or shooting or at school. I had very little time for the people that I love."
Now, Poulsen teaches in the mornings, spends the afternoons grading and working on schoolwork, and has family time later in the evening. She schedules two shoots per weekend, also using that time to edit her latest shots.
Poulsen is especially grateful to have more family time available to her, as her family has played an important role in both her personal and her professional life. 
"From everything as simple as being subjects to play with to being supportive when mom's not home or when I have to edit," she explains. "Just kind of having that support and encouragement was everything, especially from my husband." From pushing her to start her business in the first place to being photography subjects, Poulsen's family continues to be her biggest support system. Her eldest daughter, Gracie, is featured several times throughout Poulsen's business brochures and web pages. 
However, when having to choose between photography and teaching, Poulsen is unable to make a decision. When asked if she would—assuming the proper circumstances— quit her teaching job to take on photography as a full-time career, Poulsen shook her head. 
"No," she replies. "People have asked me that before, and no. I love teaching, I really love it. It energizes me, working with kids."
As it turns out, these kids are beginning to discover more of what Mrs. Poulsen of room L.114 has to offer. In fact, her senior clientele has come to expand even farther than Portage Northern, with her exceptional skill level as well as her kind, comforting character attracting students from all over West Michigan. One of her senior photoshoots from October of 2020 was even awarded with a feature in the Senior Muse magazine.
"I had such an amazing experience," says Portage Northern senior Brooke Hoag. "She really worked to capture my personality and what I wanted. She made sure I got all the pictures I desired and did a fantastic job in displaying who I am through her photography."
Hoag's classmate McKenzie McDaniel agrees. "Daniall Poulsen is a professional photographer in every sense. Not only are her pictures immaculate, but she connects with her clients on a personal level and makes sure they get exactly what they want out of each session."
To Poulsen, Daniall Poulsen Photography is about more than the check. She makes an effort to get to know each and every one of her clients individually, investing time and energy into meeting their needs and making them comfortable.
"When people see images of themselves and love them, there's no better feeling, you know?" she says. "When I'm able to let them see how amazing and beautiful they are, it's such an amazing feeling."
Poulsen views photography as a creative outlet that gives her a sense of artistry. "I really think that having that creative outlet is so relaxing and I can just lose myself in that," she says. "I also love connecting with people, and this allows me to do that—just like teaching does."
Moreover, Poulsen has chosen natural light as the style of her photography over others. She explains that while she's always just liked the soft, angelic look of natural light, she has also never been interested in investing the time to learn the art of off-camera flash. 
She adds that while there is nothing she doesn't like about having her own business, there are undoubtedly some stressful aspects. From choosing how many sessions to take on to how much to charge, Poulsen is endlessly making big decisions. 
With these decisions, Poulsen is also constantly looking for ways to boost the quality of her business. After providing free prom and graduation photos to the class of 2020 upon the onset of the COVID-19 pandemic, she had the idea to incorporate prom and graduation portraits into her spring photo packages. 
Along with that, she will continue to specialize in senior and family portraits while offering additional services such as professional headshots, mini photoshoot sessions, and photography workshops. 
"I am living my dream." she says with a smile. "I love teaching, I love photography, I love my clients, and I love my family. So I am living my dream. My best life."