Back to school: secondary students prepare to return to the classroom, but why?
The dust from the district turmoil over how to conduct school among a global pandemic has finally settled, and Portage Public Schools, following severe public backlash regarding the initial Return to Learn hybrid plan, has finally formalized a new path forward: a fully face to face AND fully model that returns students who want to learn in person back into the building as soon as the district decides that it is safe to return. 
Intended to make all families happy by offering both virtual and in person learning, this one-size-fits-all Hail Mary may also result in classes no longer being offered or classes being combined with Portage Central in order to keep them running. The Preparedness Plan also forces teachers to teach in-person and virtual students at the same time, basically guaranteeing that students will be receiving a lower quality of education once the face-to-face students return to the classroom. This is particularly troublesome in quarter 3, where the return rate at PN is about 25%, meaning that teachers will be teaching with a very small number of students in the physical classroom while a majority of their students join the learning environment online. 
The question I have is why? Why are we gearing up to return to the classrooms and put our lives at risk? The cases are worse now than when we shut down back in March. We are starting the new year under MDHHS restrictions in order to combat rising cases because it is evident that this pandemic is getting worse in Michigan, not better, and that secondary schools in particular were key to community spread. The PPS school community has already grieved enough: in this unusual year, we have lost students, students' parents, beloved staff members, and a school board member. There is no acceptable amount of loss, especially when it can be prevented. We have made it this far learning virtually and hope is on the horizon. We should not be putting students', families', and teachers' lives at risk just because we can. 
There are a myriad of examples showing that this is not a plan we should enact. Mattawan High School tried a very similar model, a hybrid where students were being taught in the classroom or at home. Very shortly thereafter, they were forced to shut down because so many students got COVID and either passed it on in school or created large quarantine bubbles. This shows just how dangerous this hi-flex model is. The information distributed to PPS secondary parents detailed just how problematic this model is. It states: "At the secondary level, students travel throughout the building, and given the complexity of the schedule, they will presumably be in contact with hundreds of students for varying lengths of time each day. There will be no cohorting (grouping) of students at the secondary level, so a positive case has the potential to affect students in all 7 of his or her classes and lunch." Students are making a variety of choices based on life circumstances and personal beliefs that increase their risk of being exposed to Covid-19. Just one of those students – who could be asymptomatic – could spread the virus to their classmates and teachers, making them sick at worst and quarantined at home at best, creating unnecessary disturbances in learning. This plan just opens the door for interruptions, shutdowns, and major health risks. 
I am a senior. This is my last year in school, and to say that it's not gone the way that I had planned would be a tremendous understatement. Still, when it came time to decide about returning to learn in 2021, I chose to remain virtual. Moving forward, I encourage every student to critically read the plan, ask their building principal any questions that they have, and consider their health and safety and the health and safety of their family and community before deciding to return to learn in person.
Will you be returning to learn in person in quarter 3?
Sorry, there was an error loading this poll.
About the Writer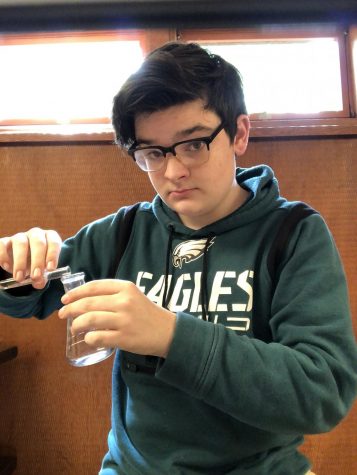 Liam Fagan, Co-Editor in Chief
Liam is a senior who has been on the staff for 4 years. He currently holds a co-editor in chief position and was formerly the sports editor for the Northern...