Community re-elects all 4 incumbent school board members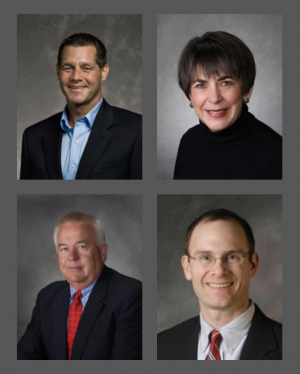 "We are fortunate in Portage to have a supportive community and fantastic educators to build an educational foundation," said former PNHS teacher Derek Dee, who launched a write-in candidacy for the school board as a part of the 2020 general election. 
On November 3, Portage residents weighed in on who would represent them on the PPS school board. There were seven candidates running for four seats: incumbents Teresa Novaria, Bo Snyder, Rusty Rathburn, and Kurt Droppers were joined by challengers Dean Prowse, Kevin Hoffer, and Dee. 
After the election, the four seats on the Portage PS school board stayed the same. Teresa Novaria received the most votes with 15,355 votes, followed by Bo Snyder with 12,562 votes. Rusty Rathburn came in third with a total of 12,445 votes, and Kurt J. Droppers received a total of 10,002 votes to take the fourth and final seat on the board. 
Despite being endorsed by the teachers union, neither Prowse nor Dee earned a spot on the school board. "While I am disappointed I did not earn a spot on the Board of Education, I am proud to have earned as many votes as I did while being a write-in candidate," Dee said. "I believe that the current board will continue to do what they believe is best for the students and community while they serve." Dee indicated that he plans on running again in the future and believes that his background as a teacher will help him serve the community. 
Rathburn looks forward to the work to be done in the district in the future. "We want to make well-reasoned decisions that are based on facts," he said. "Getting students who want to be back in the buildings back in the buildings is important. However, only when it's relatively safe. I would love for kids to be able to attend certain classes now. My biggest current priority is that kids advance in learning while balancing emotional needs. Every child has different needs as it relates to both.  We need to assure both needs are being considered."
Snyder joins Rathburn in recognizing the serious nature of leadership during this time. His priorities are, "providing level-headed, mature leadership as Portage Public Schools works its way through the school year during a once-in-a-century pandemic. Making sure we get lots of input from involved parties (parents/students, teachers, administrators) and our local public health officials," he said."The best school board members don't have agendas based on individual preferences that certain things must happen… So, my priority is to listen more than I speak, and when I speak I'll encourage Portage Public Schools to continue to improve."