Virtual learners experience school at home and in-building
The 2020-2021 school year has had quite a unique start. With the pandemic still underway, PPS students found themselves learning virtually either from their own homes or from designated learning spaces in school (with masks and social distancing protocols in place). 
There are many differences between the two choices, giving some students different experiences than others. Junior Bailey Carlson is enjoying online schooling from home so far. "I definitely miss being in school and having that connection with teachers and students, but teachers and students make it fun nevertheless," she says.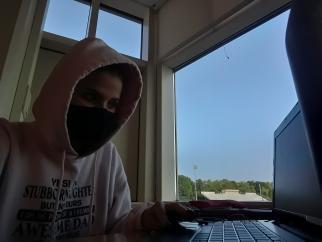 For some students, like senior Rachel Church, the experience has been far less pleasant: "I don't like this new version of learning," she shares. "I feel like it's better to have it in person with contact because it's much better learning that way." Church attends school in the building, but there are no opportunities to interact in person with teachers. Online also brings the struggles of not being able to get one on one help right away, and not being able to ask questions if a student doesn't feel comfortable asking in front of the class. While some students enjoy not having to go in, or get out of their pajamas, some are struggling with a bigger workload. "I think that the difference about online learning and being in school is the work amount," says junior Grace Morgan, who is learning from home. "Honestly, I've had a little more work today while online than in school for some classes."
With school being different than usual, some things are missing in the new learning environment. "I miss the atmosphere in school and just being around people and having funny moments in class and in the lunchroom. Good times," says Carlson. "The only thing that I miss about in school learning is being able to see people," Morgan adds. "If I didn't have to go into school on a normal day, I wouldn't." 
The majority of students are doing at-home school, leaving the school pretty empty for those in it. "It's weird to not see as many people because people are now worried and scared about what's going on around the world," says Church. "They are not sure what the future is going to be like for them."
There is no telling how long online learning will last, and for some students, that's alright. "I like being in-school a lot better, but definitely not right now. Online school right now is perfectly fine," says Carlson. "I honestly like online learning better. I'm getting better grades and I can work in solitude, which I like," Morgan shares. 
Families can stay tuned to the Return to Learn page for updates on Portage's learning plan as the pandemic continues.