Huskies Game of the Week
Hockey vs Portage Central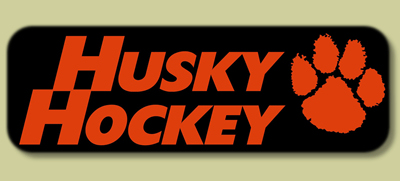 PORTAGE NORTHERN 4 PORTAGE CENTRAL 2
at Wings Stadium, Kalamazoo
WHAT HAPPENED: For the last 10 years, Portage Northern and Portage Central have battled for the canoe trophy and a chance for bragging rights throughout the rest of the year. For just the second time in its history, the trophy will reside here at Northern. Both teams used the 1st period to feel each other out and went into the 1st intermission locked at 0-0. However, just three minutes into the 2nd, PN junior Matty Seiferlein knocked a rebound into the net to strike first. The lead wouldn't last long as Central would bury a lose puck with bodies flying everywhere in front of the net. The third period got off to a hot start, as a Joe Mancina shot, deflected by Austin Killman would find its way to the back of the net. With Northern leading 2-1, PN junior Matt Stanley would light the lamp on a penalty shot to push the lead to 3-1. Central would strike back with a power play goal, which would hold the lead at 3-2 until Mitch Kalleward scored an empty net goal, and preserve the lead 4-2 for a Northern victory.
THE GOOD: Northern's ability to get into the 1st intermission without having suffered any damage would prove to be a key figure in the way the rest of the game played out. Staying out of the penalty box early and keeping up with Central's physical style of game in the 1st period was a huge momentum swing in Northern's direction and would lead to their offensive outburst in the 2nd period.
STAR OF THE GAME: Portage Northern goalie Tim Fitzgerald rose to the occasion every time Central put pressure on him. Coming up with 24 saves, Fitzgerald proved to be clutch with a couple big time stops in the third period to preserve the lead.
UP NEXT: Portage Northern travels to Holt on 12/13/13
OTHER HUSKIES SCORES
Women' Basketball: PN 31 Lakeshore 51
Men's Basketball: Loy Norrix 43 PN 65