School, local law enforcement attempts to curb speeding around campus
On Monday 9th and Tuesday 10th of September, two announcements were made regarding the speeding on and off campus by Portage Northern Director of Communications Brenda Marsh.
"Please pay attention to your speed when arriving or leaving our campus. We are getting complaints from our surrounding neighborhoods that there is a LOT of speeding going on. You are precious cargo so please drive carefully," the announcement read.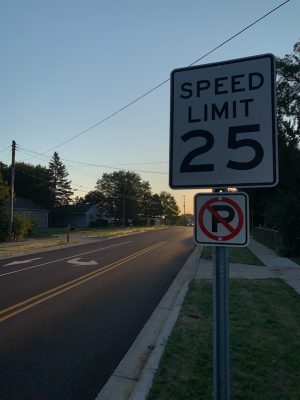 According to Principal Jim French, the announcement was in response to concerns expressed by  neighborhood residents. "We have been receiving complaints from residents on Idaho.  At first the complaints were more centered on parents driving fast down the road, but now they are citing that students are exiting at high rates of speed," he said. "I believe there will end up being a speed trap setup in the near future to monitor speed and will start issuing tickets."
School Resource Officer Brannan Pierman confirmed that it's more than a concern, it's a dangerous reality:  "There were people driving 40 mph on Idaho routinely during the school day," he said. "Way too fast for the residential area/school zone."
Pierman suggested that parents and students should expect increasing speed enforcement during peak student travel to urge students to slow down. "The ultimate goal of the speed enforcement will be to remind people to slow down in the neighborhoods so that everyone may travel safely," he said.