Portage Northern baseball wins first ever division 1 state championship in historic season
As former Huskie pitchers Tommy Henry and Ben Kizer capture national success in the College World Series, the current Huskie baseball team has done what the now U of M stars couldn't: win a state championship. 
The Huskies defeated Rockford 10-4 in the state championship game, capping off a record-breaking season which not only included the first ever division 1 state championship, but set a team record for wins and saw head coach Chris Andrews win his 500th game and get elected to the Michigan High School Baseball Coaches Association Hall of Fame. 
"We've worked so hard and done so many things right and this is the reward," said assistant coach Don Ampersee. "It's like a fairy tale the way this went. You can't make this stuff up, this just doesn't happen. I've been around this for so long, and this is very special." 
The Huskie season did have some fairy tale moments. However, it was no accident or stroke of luck that gave the Huskies their first ever state championship. They have had this moment in their minds for a long time. 
"We had our vision of doing this at the beginning of the season and it came true," said junior Nolan McCarthy, who was voted first team all state Dream Team along with senior teammates Tyler Helgeson and Cam French. 
McCarthy wasn't the only one who had his sights on a state championship all season. "We're going to states," French predicted in an interview at the beginning of the season. "That's our mindset." This mindset began from the first practice of the season, when each player put a picture of Mclane Stadium, the site of the state championship game, into the front of their team binders. 
When the moment that the team was preparing for all season arrived, the Huskies wasted no time in capitalizing. In the top of the first inning, the Huskies put up 4 runs, capturing a lead they never let slip. In the fifth inning, the Huskies added on 5 more insurance runs, capped off by a mammoth 3 run home run by Helgeson, which easily cleared the tall right field fence. The lead was more than enough for sophomore pitcher Xander Morris, who battled through an uncharacteristically sloppy game defensively to capture a complete game victory. Seniors French, Helgeson, and Zach Quinn all had 3-hit performances in their last games as Huskies. 
After the game, the Huskies all emphasized the great culture and chemistry that powered their historic season. "That's the way we play and the way we live," said Helgeson. "We care about each other more than we care about ourselves. We play for each other and we love each other. And we're proud of each other today."
"It's our culture in the field, in the classroom and in the community," said Andrews. "These guys are the epitome of that culture."
One key part of this culture is the unique bond this team has together. "love these guys with all my heart," said Morris. "They played their hearts out." 
Next season, the Huskies, who return 6 of their starting 9 players, are looking to recreate the championship culture and atmosphere felt by this year's team and chase another state title.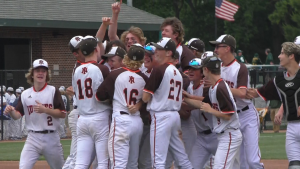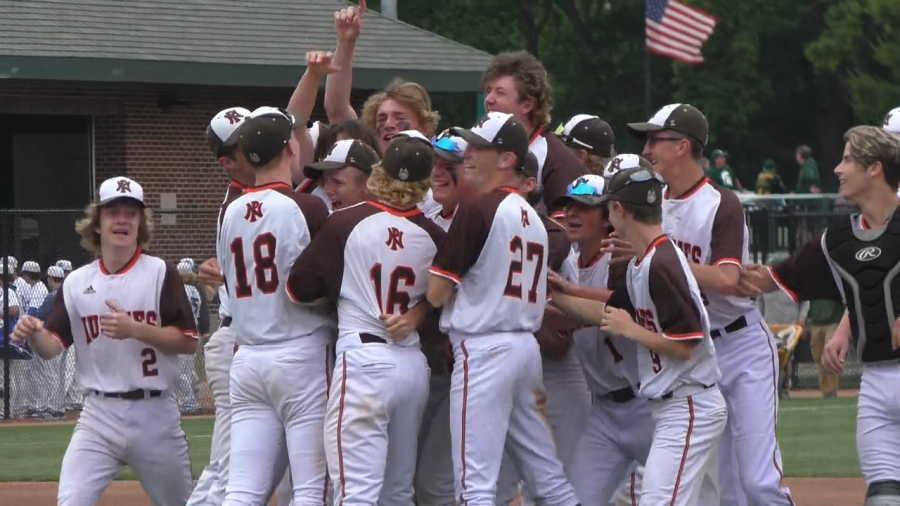 ROAD TO THE CHAMPIONSHIP: 
District play in game: 15-0 win over Loy Norrix
The Huskie bats came alive to mercy Loy Norrix in just three innings, tallying 15 runs to back ace Cam French, who allowed just one hit over three scoreless frames. 
District semifinal: 11-2 win over St. Joe 
Home runs by Parker Brey and Nolan McCarthy give Cam French more than enough support as he pitched 6 strong innings to advance the Huskies to the district championship. 
District final: 9-1 win over Mattawan
A Cam French grand slam capped off an 8 run fifth inning that sealed back to back district titles for the Huskies behind a complete game by Xander Morris. 
Regional semifinal: 10-0 win over Dexter
The Huskies dominate Dexter with 10 runs on 15 hits, led by two 3-hit games by Zach Quin and Tyler Helgeson. Helgeson and Cam French combined to shut Dexter out over 7 innings. 
Regional final: 5-4 win over Grand Ledge
After a 3 run fifth gives PN their first playoff deficit of the season, the Huskies rallied to tie the game with a double in the sixth, and then defeated the team that eliminated them last year with a Nolan McCarthy walk off single in the ninth, plating Jack Beffel. Tyler Helgeson dominated out of relief with 4 scoreless innings to preserve the victory. 
Super Regional final: 7-3 win over Woodhaven
After falling behind 2-0 in the first inning, the Huskies rallied to defeat the Gatorade Player of the Year Colin Czajkowski 7-3, led by a 3 hit game by Tyler Helgeson and a 2 RBI game by Zach Quinn. Cam French pitched all 7 innings for the Huskies, securing the victory with 4 straight scoreless frames to end the game. The 5 runs the Huskies scored on Czajkowski equalled the total number of runs he allowed all season prior to this game. 
State semifinal: 2-0 win over Brother Rice
In his last start as a Huskie, Cam French tossed 7 scoreless innings and allowed just 3 hits to advance to the state championship game. The Huskies finally scored in the sixth inning when a Nolan McCarthy triple scored Tyler Helgeson. McCarthy later scored on a throwing error to extend the lead to 2 runs. 
State finals: 10-4 win over Rockford
A Tyler Helgeson grand slam led the Huskie offense that dominated in their final game. All three senior starters (Helgeson, Cam French and Zach Quinn) tallied 3 hits in the contest, which was more than enough behind a stellar complete game performance from Xander Morris. 
About the Writer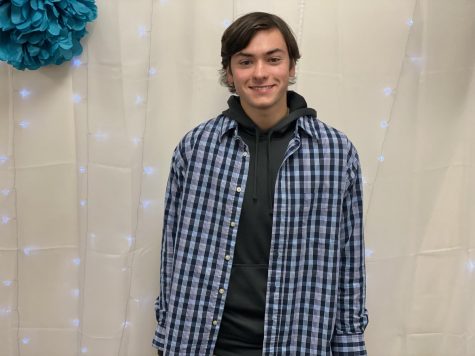 Malcolm Gaynor, Editor in Chief
I have been on the NL staff for two years, and I have been the co-editor-in-chief since the end of last year. I enjoy covering sports, both professional...