ScHoolboy Q – Crash Talk Album Review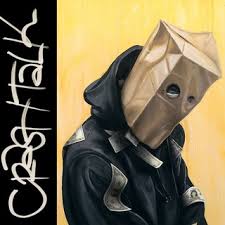 ScHoolboy Q released his album CrasH Talk on April 26th. This was his 5th studio album released and his first in 2 years. The album cover shows ScHoolboy Q with a paper bag over his head while dollar bills cover his hoodie. Not sure of the reasoning behind the album cover, but regardless, it's a dope cover.
On this album, Q declares, "I can easily tell my story now and climb from this moment." Even though he's been in the game for awhile now, Q still hasn't stopped producing great albums. Out of the 14 songs on the album, I personally like 9 of them: "Chopstix" (feat. Travis Scott), "Numb Numb Juice", "Drunk" (feat. 6LACK), "Lies" (feat. Ty Dolla $ign & YG), "5200", "Floating" (feat. 21 Savage), "Dangerous" (feat. Kid Cudi), "CrasH", and lastly "Water" (feat. Lil Baby).
The 2 singles released before the album debut were "Numb Numb Juice" and "Chopstix" (feat. Travis Scott). When "Numb Numb Juice" came out, people were instantly in love with this song, leading them to believe an album would follow in the upcoming months. Then "Chopstix" (feat. Travis Scott) came out, and the next week the album cover and those 2 songs were automatically placed on the album.
Those people got what they asked for and got some more great songs to listen to as well. My favorites from these 9 are "Drunk" (feat. 6LACK), "Floating" (feat. 21 Savage), and Water (feat. Lil Baby). On "Drunk," ScHoolboy switches up his whole flow on the album to slow it down and produce a chill hit. Don't be surprised if you see me playing this song late at night or anytime I'm just chilling. "Floating" is a great song for 21 Savage to hop on. 21 normally on his own songs has similar beats to this one, and ScHoolboy adding him to the song was a great idea. This song will be added to my Pregame playlist just because of the suspense the song gives. "Water" at first didn't sound like a great song at all, but after giving it time and listening to it more than once, the song turned out to be a hit for me. In this song, they're talking about the lavish lifestyles they live, comparing  the jewelry to "water." CardoGotWings hit us with his first ever song he's sung on, and it turned out to not be that bad. While CardoGotWIngs also produced the song, him and ScHoolboy also got a great feature in Lil Baby. At 1:28 in the song Lil Baby transitions into the song perfectly, making me take a second to appreciate how great that was. Lil Baby also never fails on a feature either which makes this such a great song.
The songs that didn't make the cut were "Gang Gang," "Tales," "Black Folk," Die Wit Em," and "Attention." These songs just didn't sound good to me, but weren't anything close to trash. ScHoolboy Q just didn't have it for these songs, but every song on the album can't be a hit.
This album overall was my second favorite from him. His album Oxymoron will forever be his best album, and that's facts. With a little over 2 years off and putting that into an album, he did pretty well.  My rating would be an 8 out of 10. This is a great album to listen to at anytime of the day.