Juice Wrld: Death Race for Love review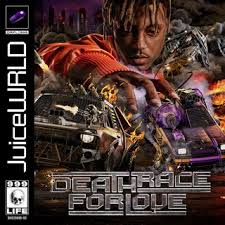 Juice Wrld's second studio album "Deathrace for Love" came out on March 8th. The cover art for his album is designed like an old Playstation racing game. He is trying to control all of the cars and relating that to his love and show how hard it is to manage so many things at one time. Throughout this album he is expressing how he's dealt with heartbreak and tries to overcome this.
Out of the total 22 songs on the album, 14 of these 22 songs are going to stay on my phone. Those songs are Empty, Maze, HeMotions, Fast, Hear Me Calling, Robbery, Flaws and Sins, Feeling, Who Shot Cupid?, Ring RIng (feat. Clever), The Bees Knees, ON GOD (feat. Young Thug), Rider, and last Make Believe. These songs are in no order of my favorites from the album. The two singles released before the album were Robbery and Hear Me Calling. Juice Wrld couldn't of picked any better songs to release before the album came out. These two songs were instant hits and made more and more people anxious about his album. The most underrated song on the album is Make Believe and it's not even close. In this song Juice is talking about how he realized the girl he's talking about was going to break his heart regardless. So what he decides to do is cut her off and put her in the past. This makes it easy on him before things could get messy. Even though he talks about nobody else being able to have her, he came to his senses and determined that what's best for him is letting her go. The Bees Knees and ON GOD (feat. Young Thug) are my tie for second favorite songs on the album. In the song The Bees Knees, Juice Wrld changes up the flow in the middle of the song. Going from upbeat, rapping, and getting others hype to slowing it down and talking about how he is going to give his all on all of his songs he comes out with. Saying he is the "Bees Knees", Juice is saying he is one of the best rappers out there. The song ON GOD (feat. Young Thug) is a good collab between the two. The two's voices go well together on this song and expect them to have more songs together in the upcoming future.
The songs that didn't catch my appeal were Demonz (feat. Brent Faiyaz), Big, Syphilis, Desire, Out My Way, 10 Feet, Won't Let Go, and She's The One. He was trying something outside his comfort zone on most of these songs and didn't work out for him. He should stick to what he is known best for, rapping about his heartbreaks and producing songs for everyone to understand and relate to.
With all of this being said, I'm expecting this album to sell lots of copies with multiple songs that you could around for years to come. My rating out of 10 would be an 8 out of 10. Some of the songs could've been better but for the most part the album was great. So far in 2019 this has been one of my favorite albums to be released and can't wait to go see Juice Wrld in concert in May.