Lil Skies: Shelby review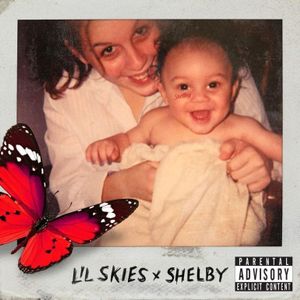 Lil Skies second studio album "Shelby" came out on March 1st. Skies didn't release the cover art of the album until a few days before. This was due to Skies wanting to surprise his mom and used a picture of him and his mom from an early age. Once he showed her the cover, his mom got all emotional and was something special. This gave me a different viewpoint on Skies and respect him even more.
Trying to exceed expectations of his last album "Life of a Dark Rose", he came close to it or even exceed those expectations. WIth that being said, out of all 14 songs on the album, 9 are here to stay. Those songs being I, Bad Girls (feat. Gucci Mane), Nowadays, Pt.2 (feat. Landon Cube), Flooded, Blue Strips, Stop the Madness (feat. Gunna), When I'm Wasted, Name in the Sand, and No Rainy Days. On all of these songs, Skies blesses us with his voice and shows how he can turn anything he touches into a great song. My favorite song off of the album would be the first song I. He talks about how and quote "I haven't been the same since I lost my bro", which could be two meanings. One being the emotional change he's going through since his friend and fellow rapper XXXTENTACION has passed. The second could refer to him being more careful about getting robbed or killed since he's had a similar incident that almost got him killed. All of his songs with features are all great collabs. Gunna and Gucci Mane are always going to produce great lyrics on a feature. Landon Cube, a close friend of Skies, are always a good duo for a song. Landon also had features on Skies first album on two songs called Red Roses and Nowadays. Other songs Flooded and Blue Strips are upbeat and get can you hype before a game or workout. While the other three songs When I'm Wasted, Name In the Sand, and No Rainy Days tell about Lil Skies laid back personality. Speaking about him just wanting to have a girl to hold him down and keep him from doing things he shouldn't.
The songs that I personally didn't like were Breathe, Ok 4 Now, Mansion, Through the Motions, and Highs and Lows. The rapper did well on these songs but it's just the type of songs I wasn't feeling. Everyone has different opinions and these could easily be on your playlist. They just didn't live up to what I've expected from Skies in the past and that's why I didn't like them.
With all of this being said, personally, Skies delivered with this album and in my opinion did better than his first studio album. Out of 10 I'd rate his album an 7.5 because of all of his songs having a good vibe and beat to match for Skies. Lil Skies will look to build momentum in the rap game and with a great album this won't be hard for him to do.