Huskie swimmers advance to the state meet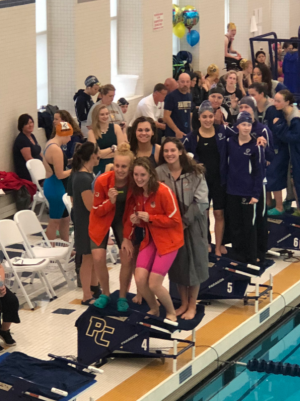 The Portage Northern women's swim team traveled to Portage Central on November 2nd and 3rd to compete in the conference championship.  The lady Huskies took home 5th out of 10 teams. "I know the place we got overall was not exactly where we wanted to be, but we did not let that affect us and we had a lot of positive energy throughout the meet," Says senior Alyssa Riker, who took home the SMAC title in the 200 freestyle.
Seniors Lexi Doll, Annie Malek, Lena Klemm, Alyssa Riker and alternate Hailey Sobell along with freshman Angelina Baker will be making the trek to Oakland University on November 16th and 17th for the state competition.  "Our goal this season was not to be satisfied with only qualifying for the state meet," says head coach Jim Long. "Our goal is to qualify for finals in 6 events and finish in the top 15. We have a high probability of succeeding with both of these goals if we remain focused during practice over the next 2 weeks."
"It was a great season of swimming with the PN girls team. We ended the SMAC with fast swims and best times that proves all of those long hard practices paid off," said freshman Angelina Baker.
Riker will be swimming the 100 butterfly and either the 200 freestyle or the 200 IM (to be decided).  Baker will be swimming the 500 freestyle and either the 200 freestyle or the 200 IM (to be decided). The 200 medley relay consists of Baker, Malek, Doll and Riker. Baker, Klemm, Doll and Riker will be competing in the 400 freestyle relay.