Interact Club hosts their annual Lunches for Lives event
The Lunches for Lives Committee, hosted by Interact Club, has been planning the annual Lunches for Lives event all week. Held Friday October 26th, during first and second lunches, the vent raises money for Portage families in need.  Members of Interact Club, with the help of some Rotarians, prepare a lunch for the students on the day of the event for $3. Last year the event was a huge success, earning a grand total of $2,650 in donations, including the Rotary's generous donation of $1,000. This year Interact club is hoping for an even better turn out with a goal of $2,000.
At the first Committee meeting, which took place October 9th, members of the committee signed up for different tasks that they would have to do on the day of the event, like preparing nutella sandwiches or helping with the grilling. Junior Peter Todd, one of the leaders of Interact Club, says he enjoys grilling the most because "you get to meet new people from rotary and talk to them while you grill,"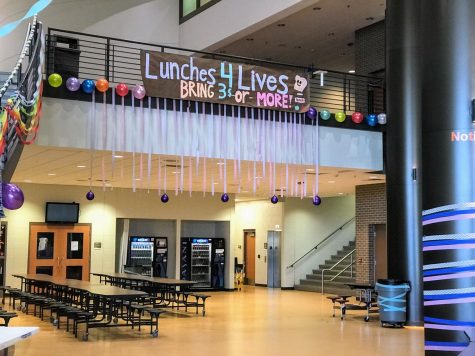 The foods they prepare are things like delicious cheese quesadillas, peanut butter and jelly sandwiches, nutella sandwiches, along with salsa, an apple, and a bottle of water. Even though they provide a delicious lunch for the donors to enjoy, Bryan Hill, the coordinator of Interact club, says that the goal is for "students and staff to sacrifice something of themselves for one day." He also goes on to say that students and staff "are giving up what they would normally spend on lunch, and while we are providing a lunch in return, the goal isn't what we 'get', but rather much much we can give."
After they collect the donations and count the money, members of Interact Club then adopt as many families as possible to help them enjoy their holiday season with new gifts and necessities. They all go shopping at Kohl's, and each member is assigned a person whom they can shop for, b
ased on a list of the necessities they need. Everyone loves doing the shopping at Kohl's for these families every year. "Although the shopping is very stressful, is definitely is rewarding," says senior Zainab Fayyaz, another leader of Interact Club. "With the limited
 amount of money that we have, it gives me a perspective on how hard it is to find appropriate winter clothes for people who cannot afford many." Fayyaz also goes no to explain how "it's very rewarding knowing that the coats or gloves we are shopping for will give people warmth and comfort in the cold winter days."
Khadijah Siddiqui, a sophomore this year and a member of the Lunches for Lives Committee, really enjoys being a part of Interact. "I first heard about Interact at the club fair during freshman year. Right there, I was interested in it," she says. "Lunches for Lives also spoke to me and I felt like it was important to remember that there are those not as fortunate as [we are] and we should be thinking about helping [them] as a community." Another student, junior Andre Walker, joined Interact Club this year and he is very glad he did! "I decided to join Interact Club because I learned how beneficial the club is to our community," Walker says. He also says that he loves doing anything he can do to help his community. "When I learned that Interact Club emphasizes on giving back to others, I knew this was the perfect fit for me," he says.
The students at Portage Northern High School love being active in their community and offering help to those who need it. "I decided to join Interact this year because I wanted to be a part of Lunches for Lives and Two for Tuleeni," says junior Maggie Brown, another new member of Interact Club this year. "It looked fun and it is for a good cause", she adds. Brown also loves volunteering and helping out in the community, and she gives her thoughts on the subject, saying: "I feel good after I volunteer because I know I'm helping out and making a difference."