Fall musical cast gets ready to debut Les Miserables
The cast and crew at Portage Northern High School have been working hard to get ready for the fall musical, Les Misbérables, rehearsing up to 15 hours a week to get ready for the first show, which is on November 9th.
The play is a well-known Broadway classic, Les Miserables, about Jean Valjean, known as Prisoner 24601, who is released from prison and breaks parole to create a new life for himself while evading the grip of the persistent Inspector Javert. Set in post-revolutionary France, the story reaches resolution against the background of the June Rebellion.  Meanwhile, the life of a working class girl with a child is at turning point as she turns to prostitution to pay money to the evil innkeeper and his wife who look after her child, Cosette. Valjean promises to take care of the child, which eventually leads to a love triangle between Cosette, Marius, who is a student of the rebellion, and Eponine, a girl of the streets.
"The students need to decide whether or not they will stand and fight for their [the characters'] cause," senior Trinity Posey, who plays Eponine, explains. "There is a high chance you will fall in love with the play. The actors and actresses in the play are passionate about their roles. The cast is a very talented group of people. I feel like the show was cast very well so everyone fits their roles."
There are challenges that come with being in the play. "Personally, I don't have any trouble memorizing lines and lyrics because I've grown up listening to Les Mis and had it practically all memorized before auditions even happened. I know for some other people though, if they didn't know Les Mis before rehearsals started, it is a massive piece of theatre to tackle, although at this point everyone is pretty comfortable with the words and now it's our job to bring them to life," senior Rosemary Coryell explains.
All the people in the musical have a role they have to do, big or small, and there is something to love about the major and minor characters. "Since I'm in the ensemble I get a lot of freedom with my character, and I can create characters for myself based on different points in the show," says sophomore Lola Winn.
The cast is eager to show their hard work to their peers. "I just want people to know that Les Mis is more than just a show, it is a revolutio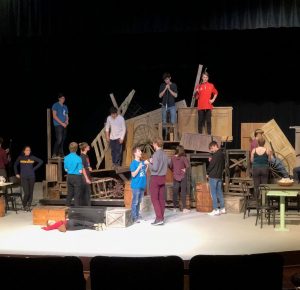 n. The message is very relevant in our society right now and when you leave the theater you will have cried, laughed, and been inspired. The show makes you take a step back and reflect on whether you should allow others to silence you, or if you should you use your voice for what's right," says Posey.
"I just want to emphasize how powerful this show is. Several cast members who were initially skeptical now can't wait for opening night. It's truly one of the most famous musicals out there, and for good reason: the show tugs at your heartstrings, calls you to stand up for what you believe in, and will leave you humming the songs for weeks afterward. Tickets go on sale on October 19th at Tickets are going to sell fast so make sure to get yours as soon as you can!! I can't wait to share this phenomenal story with everyone," adds Coryell.
The director of the musical is just as excited as the actors and actresses in the musical. "I'm excited that these students get to sing this music! The show is entirely sung-through and the melodies are so rich and powerful.  Telling the story is also thrilling; it has everything – humor, greed, revenge, love and passion!" says director Denene Koch.
Tickets for the play go on sale on October 19th for $18 and can be purchased at www.pnmdrama.org. The show dates are:
November 9 & 10 starting at 7:30pm
November 11 at 2:00pm
November 16 & 17 at 7:30pm
November 18 at 2:00pm.