Tennessee stabbing affects Kalamazoo thrill seekers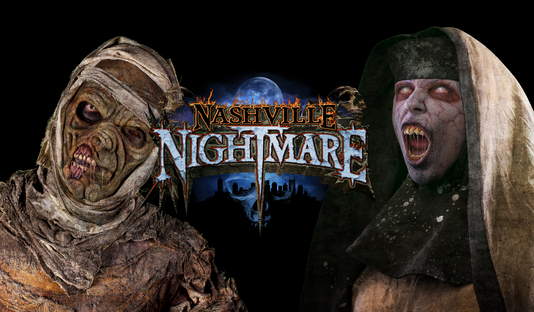 When friends Tawnya Greenfield, James Yochim, and others took a trip to the Nashville Nightmare Haunted House, they got more than the light scare they bargained for. On Friday, October 5th, while waiting in line, according to Greenfield's police report, a man in a costume whom Greenfield believed to be one of the employees at the house approached their group of friends.
He reportedly asked Greenfield if Yochim was bothering her, to which she assumed it was all part of the fun and acting. The group of friends had previously been chased around the house by an assortment of different actors playing their spooky parts, such as psycho murderers or chainsaw wielding people, and thought nothing of one more. Greenfield played along, and responded yes, and at this time the unknown man proceeded to hand her a knife, apparently stating "well here, stab him."  Believing the knife to be a prop, Greenfield jokingly 'stabbed' Yochim in the arm, only to witness seconds later blood pouring from the very real wound, "…like something out of a horror scene," Greenfield described to Fox 17. At this time, the masked man said, "I didn't know my knife was that sharp," and disappeared according to Yochim's report to People Magazine.
Nashville Nightmare Haunted House, not having immediately responded, eventually released a statement saying, "We are still confirming the facts, but I can tell you that on Friday night, a male patron was injured by a fellow patron outside the Nashville Nightmare house. Our medical staff responded immediately, and the injured party was transported to the hospital where we understand that he was treated and released." More information was later released as well by a representative, disclosing that the man in costume might have been an employee at the haunted house, after all.
Halloween being Yochim's "favorite time of the year," he was excited to indulge in some more of the spooky festivities that come along with the season, but one might wonder after this experience whether he's as eager to try another haunted house again, which he said he was definitely iffy,  something that other haunted house goers here in our very own district might now be wary about.
A spokesperson from the Kalamazoo Haunt Park explained how they prevent such incidents from taking place at their establishments and attractions, they stress how "Our number one priority is the safety of our guests and staff," a representative said. "Kalamazoo Haunt Park publishes, posts, and enforces, many rules and policies designed to maintain a safe environment on the property as a whole, and inside the each of our four attractions. In addition, our staff and security team is routinely trained to recognize potential problems and address them appropriately. We are well aware of potential risks unique to our business because we participate in, and contribute to, forums that discuss known and new risks, and share best practices on how to prevent and/or respond to them."
Not only this, but when asked how Kalamazoo Haunt Park prevents accidents such as that at Nashville Nightmare, they express their feelings by claiming, "The incident in Nashville appears to have resulted from a lack of communication and stupidity, rather than from malice. As you probably know, you can't fix stupid, but you can communicate the risks of venturing off script. Haunt Park actors perform prescribed roles evaluated for safety. Our training reinforces the risks associated with departing from prescribed roles without proper discussion and vetting."
Haunted house goers freshman Lilly Millward and freshman Stratton Fischer shared a similar opinion on whether or not they'd attend another haunted house after the event in Tennessee. While Millward claimed the thought of the occurrence made her feel "uncomfortable," she admitted she'd most likely go to another haunted house, whereas Fischer wholeheartedly agreed that he'd endure another house, explaining that he won't let one incident stop him. Although, Kalamazoo thrill seekers who aren't too discouraged by the incident should check out Kalamazoo Haunt Park's website at http://www.hauntpark.com/, and dare to take a stroll through their scare zones!