Freshman golfer Annie Betts advances to states
Coach Bob Eustice knew freshman Annie Betts was going to states during her second practice. "From just looking at her swing," Eustice said, "[I knew] if she can shoot anything around mid 80s, she'll go to states."  Betts ended up with a score of 88 at regionals, earning her a 3rd place finish and an opportunity to compete in the state tournament this weekend, where Eustice thinks she'll place between 15-25th overall.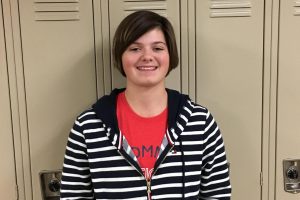 Betts, who has been playing golf for just a year and a half, was cool under pressure to earn her way to states. "I just stayed calm, swung easy, and then it happened," Betts said. As a freshman, Betts didn't have any expectations at the beginning of the season, and didn't even think about the possibility of competing in states until the end of the season. This strategy of taking it one day at a time payed of as Betts was able to continue her good season into the postseason.
The team had a combine score of a 466 at regionals, which was slightly above their previous best (and team goal) of 429.  Despite the successes of Betts, the team has faced some struggles. "This year was a rebuilding year," Eustice said. "We had a lot of young players." The entire varsity team will return next season, including Betts, junior Madi Mace, and sophomores Lia Dittenbir and Karly Turchan.
By moving on to states as a freshman, Betts joins a small list of PN state golfers in the past few years. The last time the entire team went to states was 3 years ago, and, since then, the only golfers to make it to states have been (2018 graduates) Erin Sexsmith and Grace Beam. Betts will take on the competition, and the weather, in what looks to be a chilly state tournament in Forest Akers West golf course at Michigan State University.