From 1 in 94 to 1 in 1207: junior Zamarieah Foth finds her place at PN
When junior Zamarieah Foth walked through the doors of the lower level commons on her first day of school, she was shocked. Starting the year at a new school is a big change in and of itself, but it's even more challenging when you're surrounded by 1207 more students than you're used to.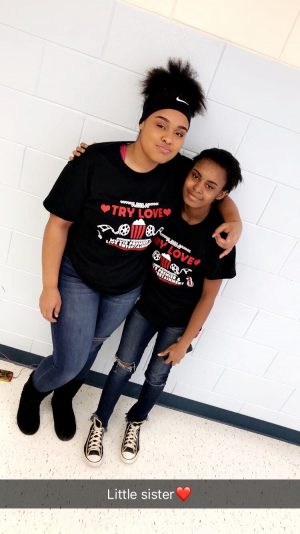 Foth came to Northern from Covert High School, which has only 94 students. "It was really overwhelming the first day," she recalls. "I came in and saw all the people and got really anxious really fast."
Covert is a small town along the Lake Michigan shoreline, about an hour west of Portage. "It is very small," Foth says. "Everything is basically just on one street." Because the town is so small, teenagers like Foth often go into South Haven for entertainment. "My favorite thing to do is play volleyball on the beach," she says.
Now that she has adjusted to the school size, Foth has discovered that a larger school can have a lot to offer. "At my other school, there wasn't a lot of help from teachers, and here, teachers are more helping, available, and willing to explain things," she shares. She also likes the social dynamics of a larger school. "In a smaller school, everyone knows what's going on with you, but at a bigger school, you have more privacy," she explains.
Making friends might be the first thing on some new students' minds, but Foth has other plans. "I'm not really focused on making friends right now," she says. "In the past, I've gotten too involved with friendships and ignored my work, and I'm not going to let that happen here."
Instead, Foth is focusing on her academics and passing her classes. One of her major goals here is to not give up. "I want to ask more questions in class," she says. "I tend to get quiet when I don't know what I'm doing."
With As in all of her classes so far, it seems certain that she will do just that.