Natalie Grinder embraces her passion to lead with Student Senate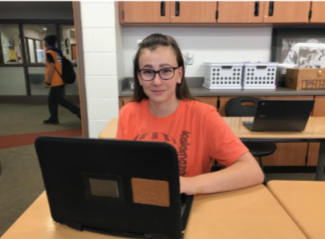 Sophomore Natalie Grinder took a deep breath. It was almost 5th hour, which meant Senate…which meant meeting Fred Upton. Grinder was nervous but excited to have her voice heard.
Moving back to 7th grade, Grinder says her passion for leading started at West Middle School, when she learned about Student Ambassadors. Now called WEB leaders, it is a program to help incoming 6th graders get adjusted to middle school. Grinder said that when she got in, she was thrilled.
"I was so excited to [do Student Ambassadors] because I had a hard time adjusting to middle school. Me being able to help somebody else made me feel like I was helping them to have an easier transition into school," says Grinder. "I always enjoy helping other people, so when I was given the opportunity to help out the new 6th graders and give them an understanding of the school, I took it."
In 8th grade, she continued with West's first year ever of the WEB Leader program. Her years of work in WEB Leaders as well as Student Leaders, a student government organization at West, caused her to be recommended by counselor Amy Gray to join Student Senate in her freshman year.
Student Senate does many things, including setting up the entire Breadlift, organizing part of homecoming, dress up days, pep assemblies, court nominations, and a lot more. Grinder says her favorite part of Senate is the Breadlift, especially Bread Guard.
The night before Breadlift, Student Senate set up, make sure everything is working for the next day, and then have a Senate dinner and hang out until late in the night.
Senior Sarah Headapohl, one out of four officers for Student Senate and the leader of the pep assembly group, says, "Natalie has been in Senate for the past two years and I can honestly say it has been such a pleasure to meet and get to know her better! While at first she may have been a little shy, she has come out of her shell so much since her first day of Senate and it has been amazing to watch her open up and share her ideas! … Senate just wouldn't quite be the same without Natalie Grinder in it."
Teacher and Student Senate advisor Kellie Pittman is a big inspiration to Grinder. "She does a lot for Senate, she works day and night on what we have to do and does a lot more than she needs to," Grinder says.
Kellie Pittman has a lot to say about Grinder, too. "This is Natalie's second year in Student Senate and she is truly one of the hardest working and most dependable students I've had the pleasure of working with.  A lot of the work we do in Senate extends beyond the normal class period… I can always count on Natalie for whatever we need. She always gives 100%."
In 9th grade, Grinder had the opportunity of a lifetime. Student Senate met with Representative Fred Upton and had the opportunity to talk to him about school laws and how to protects schools. Grinder was amazed and delighted.
When asked about her experience, she was speechless. "It's almost like, there's like no words to describe it, it's not every day you get to be able to be heard and try to help our school be safe."
Grinder's advice to other people on leading is to work hard and really enjoy it. "In Senate, you are working every second, there is no rest. You have to really enjoy it and know that you have a passion."
Grinder has definitely discovered her passion and looks forward to many years of Senate to come, but even when her time in Senate comes to a close, her kind spirit and willingness to help others will live on at Northern.