Running solo: Peyton Witt is track's only state qualifier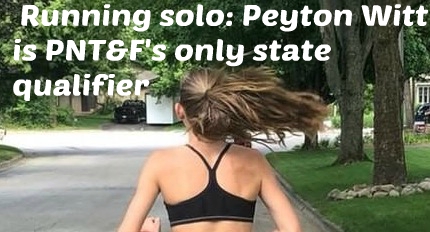 As the school season comes to a close for many students, unfortunately so does their track season. Most athletes create a goal for the season, and for many, that  involves making new personal records, getting on varsity, and making it to the final big meet, the State Championship. This year, the PN Track and Field team only had one member qualify to compete at this elite event: junior distance runner Peyton Witt.
In order to qualify for the state meet, an athlete has to place either first or second at the regional meet or make an "additional qualifying" time, height, or distance (depending on the event). Witt qualified at the May 18th regional at Lansing Waverly High School by winning both the 1600 and 3200 meter races. In the mile, another runner was leading the beginning of the race, but Witt took over after the first lap and finished in a season best 5:04.44.
She would go on to also win the 3200 for the second year in a row, taking the lead immediately and never being seriously challenged. She won in 11:10.58, 19 seconds ahead of second place.
Witt runs with desire, love, and conviction. "As cheesy as it sounds my passion," she said. Her dedication does not go unnoticed. "As an athlete, she dropped a lot of time last year," explained head coach Ahren Kaylor. "She's the second fastest Northern girl of all time in the distance races." She also puts in the hard work required to be elite. One thing other kids can take from her is her dedication to her sport and long term goals," said Kaylor. "She doesn't miss a single day. Literally, for years, she hasn't slacked or missed a single day."
At the state meet on Saturday, June 2nd at East Kentwood, Witt finished 10th in the 1600 with a career-best 4:58.11 and fifth in the 3200 with another career-best time of 10:36.63.