Lena Lukowski, forensics double threat, prepares for state
Lena Lukowski saw her name on the finals postings and was shocked. However, that was nothing compared to a few hours later when she realized that she was in 4th place and was moving on to the state competition. In the words of Lukowski herself, " I wasn't even expecting to make finals, everyone else was very talented and I didn't know what to expect." While Lukowski may not have expected it, it happened, and she is going on to states for the second year in a row. However, the event this year in much different than the event last year.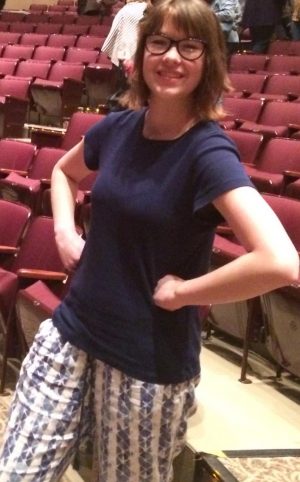 Last year, Lukowski was in the Sales 9/10 category, which is a category for only freshman and sophomores. She was selling a product called Project Seven gum. At that point, she was ready to do a similar event next year, and take it just as far. However, things didn't go as planned. Lukowski made finals at only one tournament this year, In the event of Informative, which involves using speech and visual aids to inform audiences on a topic. Both Sales and Informative are Pa (Public Address) events, in which people write speeches and sometimes use visual aids to present. That's why it was surprising to her to see her name up for storytelling.
Storytelling is an interpretation event, meaning taking and cutting a prewritten piece to perform. In storytelling, the piece must be specifically from a children's book. The price she chose was I Need My Monster by Amanda Noll. Lukowski put together her piece in a week and a half, and was ready to perform at Regionals. Not only did Lukowski do well, but she excelled. She is now ready to go to states for Storytelling and make her mark.
Not only is Lukowski excited about the event change, but she is also excited about the change of atmosphere.  Lukowski knows that she isn't the typical PA kid, and now she gets a chance to capitalize on that. "I always had a different personality than the other PA kids, but since I was in PA I never got the chance to talk to my friends in interp. They were always in rounds or talking with other interp kids. Now that I am in interp I got the chance to talk with all my interp friends and it was such a relief. I felt like I belonged there because they all had similar personalities and demeanor."
While Lukowski loves where she is this year, her future is definitely still unknown. "For the time being I don't know what I want to do next year, but I would like to be in a interp event if possible." Whatever Lukowski chooses to do, she is ready to compete.