The track team runs…without a track
The new soccer field and upcoming football stadium have given many sports teams great places to practice and compete. However, for the track team, it means a year without a track. The new track will be built around the football stadium, which will be ready next season. In the meantime, the track team is stuck in a tough situation: excited for brand new facilities, but also missing the old ones.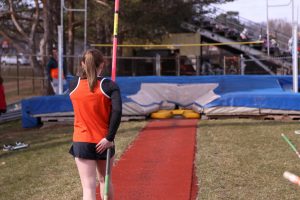 Sophomore Cameron Adams is a track athlete that runs the 400 and 800 meter races. Adams mentions that, because of the lack of a track, the long distance runners practice by running around town and on the streets. However, there is no easy solution for sprinters. "We don't have a place to run 100 meter sprints anywhere around our facilities," Adams explains. The soccer field is slightly too short, and the doghouse track has turns that are too sharp. The team is sharing McCamly track with their cross town rivals, but transportation over there makes the situation less than ideal.
One of the biggest benefits to the new track will be home events. Currently, aside from their first "home" meet at McCamly track, every meet is away, which presents challenges to the runners due to long bus rides. "It's hard on your legs to get out that stiffness from not moving around for that long," says Adams. The first meet was especially challenging, as Aquinas College was about an hour away. Since then, the team has also had a long ride to Niles.
Another sophomore, Kanishk Madhav, can relate to the challenges caused by the lack of a track. Madhav, who runs the 1600 and 3200 meter races, makes the crosstown trek to Portage Central when he needs to run on the track. Madhav describes this situation as "difficult and annoying," and he is extremely excited for the new track at Portage Northern. "It'll be a lot more efficient and convenient to just have a track of our own," he explains. Track athletes of all different distances are anxious and excited for the brand new track.
Not having a track is a unique challenge for the PN track team. The large team of about 110 athletes must be creative and resourceful in their running, and also in their field event practice, which even has the throwers practicing at Haverhill. The team is hoping that this challenging year will be worth it when they run on a brand new track at this time next year.