PNHS collects enough blood to save 204 lives at blood drive
That's how many people can be saved by the amount of blood collected at the annual blood drive as one donation can save three people and 68 PNHS staff and students stepped up to the plate to donate.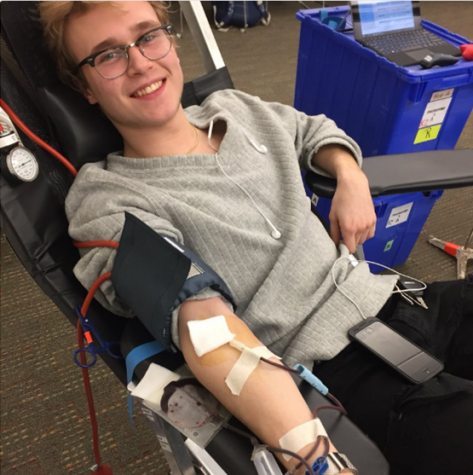 The second blood drive of the year, set up by the Student Senate, was just this past Thursday. It was claimed a success by Senate Advisor Kellie Pittman, who noted the high turn-out rate.  Senate partners with Michigan Blood to host the event. "What's nice about Michigan Blood is that all of the blood they receive from blood drives goes to either Borgess or Bronson. It stays in Kalamazoo county, so you truly are helping your community," said Pittman. "Every two seconds in America, someone is in need of a blood transfusion. Donating blood is one of the ways you can truly save someone's life. It's a great cause."
"I know that one donation can save three lives, so I thought 'why not save some lives?'" said sophomore Gracie McGrath. "I think it's a really good way to contribute to the community because all the blood stays in the Kalamazoo area. Even though you may not know who it's going to, you know you're helping other people."
 "It saves so many lives. It's worth the ten minutes it takes. Anyone who's able to should donate," said senior Lizzy Verduzco, who has valuable advice for any of those wishing to donate. "This is my third or fourth time donating. I ate a good breakfast, and then I ate after the donation. As long as people prepare themselves by drinking water and eating before and after, then they'll be fine."
The next donation here at PNHS will be next winter.