Varsity basketball ends season after post-season run
Portage Northern men's varsity basketball season has once again flown by and has come to an end.
Though the boys started off with some shaky legs, they finished strong and hard. "I didn't want the season to end, as they were finally developing into a solid team made up of individuals buying into one another," said head coach Ben Neal.  The team felt as if they were just getting started with their finishing record of 6-15 and most of the wins being toward the end of the season.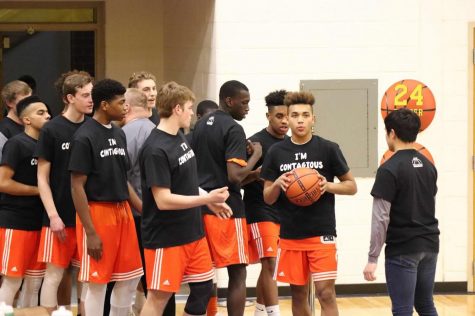 One of the proudest moments this season as a team was when they defeated Portage Central on their very own home court. Beating conference champs St. Joseph was also major accomplishment for the team.  "The win against St. Joe really showed them and our followers the truth that there isn't a team around we can't beat," Neal says.
Neal took on the role as men's varsity basketball coach this year and the athletes were ecstatic with the decision.  "Neal always kept pushing me to be better and would always get on me when I made a mistake, which is the kind of coach you want in order to win games.  But, that also lets you know that he cares about you and wants you to succeed," says junior Cameron French.
The players were disappointed in their season and the fact that they lost so many close games.  "Our record wasn't as good as we wanted, but we were in lots of close games that could've went either way and unfortunately they didn't go our way," said junior Zach Quinn.  
The boys ended their post-season play in the District semi finals, dropping a hard loss to Portage Central.