Foreign exchange student Esther Schubert makes the most of her time at PNHS
For many high school students, studying abroad is not always a viable option. Seventeen year-old German exchange student Esther Schubert, however, chose to spend an American senior year in the United States, despite the obstacles. After applying for a full scholarship to study abroad in the US granted by her home country for the second year in a row, Esther packed her bags for Portage, MI.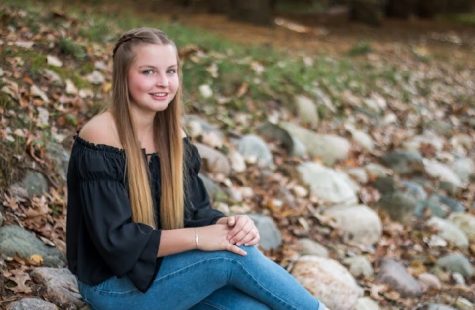 Esther found deciding to spend an entire academic year in the states simple. Since she was a young girl, Esther longed to visit the US "because of the movies [portraying the US]." Esther is pleased to now have the experience to come to the conclusion that because of her time shared with open and friendly Americans and an American high school, "[America] is so like the movies." Despite the differences between the US and Germany, life in the US as an American high school student has allowed Esther to grow.
Esther faced initial challenges when first arriving in Portage. Despite learning English since the 4th grade, Esther struggled with the language barrier. "In the beginning it was hard to understand people," she said. "A lot of people don't want to connect a lot with you because you will leave," she said. Many other students think "Do I really want to be friends with an exchange student if I know [he/she] will leave?" In light of these challenges, Esther worked past the language barrier and keeps up with multiple close relationships.
The act of being open to new things helped Esther enjoy her new experiences. Since people can be hesitant to build relationships with foreign exchange students, Esther never expected to become this close with the people, such as her host family, that she has met in Portage. "I feel like [my host family] is a second family," said Esther. Esther's host parents even introduce her to new people by telling them that she is their "oldest daughter." Esther and her family share much of their time together. For instance, during meals, each person shares their favorite and least part of the day. Esther plans on maintaining this level of intimacy with her family once she returns to Germany. She says, "When I leave, I'll text them the favorite part of my day." Since distance can be challenging, Esther's family plans to visit her in Germany.
Differences in culture are considered difficult to overcome; however, Esther was prepared to look past these differences. For the most part Esther knew what to expect in the US, yet the way in which Americans interact with the environment surprised her most. Specifically, Esther was shocked at the commonality to use paper plates and bottles and to throw them in the trash afterward. She says, "It's super different in Germany, because I feel like we care more about our environment." Unlike the US, Germany plays a lead role in maintaining "green" policies.
This summer, Esther will return home to Germany for the first time in almost a year. Although Esther's departure will  be a disappointing event, it will also an exciting beginning. Esther's status as an American student will (hopefully) not just end at Portage Northern. Because of how much Esther enjoyed her time in the States, despite the challenges, she plans to return to the US for university.