PNHS students join the workforce early
The early mornings, long days, and large workload of school may seem like a full time job. However, some students allocate additional time and energy to an actual occupation. Whether it be for helping the family, gas money, or college funds, working students not only learn how to manage time and earn money, but experience other positives as well.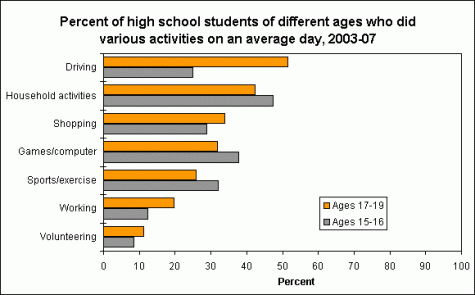 Having a job as a high school student has its challenges. According to Association for Supervision and Curriculum Development, high school students with jobs "achieve at lower levels academically, are more likely to engage in negative behaviors", and are less likely to "engage in extracurricular activities, and attend or stay in college."  However, sophomore Gannon Andrews has had a drastically different experience. Andrews, who has worked at Target for about "five months", describes his work environment as "pretty fun." Also, Andrews says that working "doesn't affect me for the bad," but actually helps him socially because he has the opportunity to "meet people and have fun conversations."  Employed Portage Northern students not only experience the positivity of receiving wages, but have the opportunity to meet new people and have good social interactions.
Senior Tyler Maki similarly has had a similarly positive experience with his job. Maki says that he "likes my job" at Noodles and Company, where he has worked for "about a year."  Despite working "twenty five hours a week when its not winter," Maki still has extra time to socialize. He says that he can "still hang out later at night and on the weekends, so it doesn't really affect" his social time too much. However, he does mention that it can be "hard to balance that with school, and other things, when you have to work all the time."  Other than this, Maki, like Andrews, has had positive experiences with his job.
Working as a highschool student is not without its drawbacks. As Andrews explains, "sometimes I have to miss baseball" on Sundays when he has work. Andrews makes this sacrifice because he "needed money for gas and also just to pay for stuff on my own" now that he can drive. Maki, on the other hand, explains that the main reason he words is because he "needed money for college." While both have different reasons for joining the workforce, both Maki and Andrews are similar in how they have successfully balanced school, social time and extracurriculars, and a job.
According to the Bureau of Labor Statistics, about 21% of high school students had jobs in 2016, or about one in five. This translates to a large population of the Portage Northern student body that has already joined the workforce. While most students work for the extra money, other positive outcomes such as meeting new people and having a good time can also occur. Also, Portage Northern students are also very good at multitasking and dealing with the stresses of a job in a productive and positive way.