Boys and girls track teams prepare for the season
The Portage Northern track and field team held a preseason meeting on Tuesday, February 27, headed by coach Ahren Kaylor.
Kaylor has high hopes for the season in terms of returning athletes and new coaches. PN alumni and all-state athlete Derrick Sanders will be joining a talented group of veteran coaches as he helps with the sprints/long jump role.
On the athlete side, "as always, our strength is in our numbers," said Kaylor. He anticipates the team consisting of about 110 students and hopes to build on last year's successes. Last season the men's team finished third in the conference and second in the West division, with a difficult loss to PC. The women's team finished seventh in the conference and second in the division, also suffering a defeat by PC. "We have our eyes set on being SMAC West Division Champs by going undefeated in our dual meets," Kaylor said.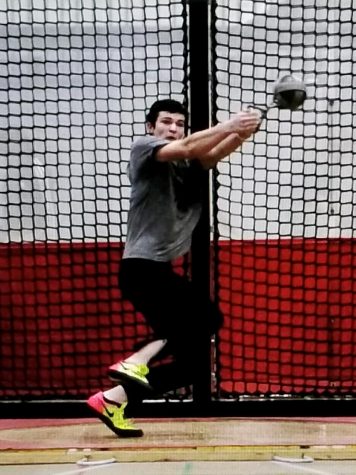 Kaylor expects this season to be a genuine team effort with points being contributed in all 17 events. "Individuals we anticipate be our new leaders are Connor Clemens, senior Jack McGrath, juniors Luke Daniel and Max Rathburn senior Owen Langejans for the distance runners. On the sprint, hurdle and jumps side, we are relying on seniors Jon Leasure and Austin Vanderweele, sophomore Tyler Amos, senior Tyler Wardlaw, sophomores Nick Henegar, Grayson Davison and Cameron Adams," Kaylor said. The top returning men's thrower is sophomore Josh DeVries, who just finished third at the Indoor State Championship in the weight throw. "In a field filled with upperclassmen, Josh found a level of focus that allowed him to look past grade levels and propel him to become one of the very best in the state," said throws coach Sean Foulkes. "We are extremely proud of his accomplishments and are looking forward to what should be a very bright future."
Other throwers expected to contribute significantly to the men's team are junior Hayden Vanderweele & sophomore Tyus Van-Shonoiki. "There are also some incoming freshman and new kids to watch that we expect to contribute right away in various events, including Anthony Tyus and Jud Fargo," said Kaylor.
On the women's side, the top returning distance girl to watch is all-state cross country runner Peyton Witt, who just finished third at the Indoor State Championship in the 3200 run. After finishing as conference runner up and then regional champion last year, she has high aspirations for this year. "I hope to be top five in the state, I hope to run sub-ten forty for the 3200, and at the regional meet, to be first." Other top distance girls to watch and to follow their leadership are junior Emma Pilnick, sophomores Hannah Koffler and Maddie Wilke, as well as juniors Bekah Reisterer and Anna Rabe, who all had strong cross country seasons in the fall.
In the sprints, hurdles and jump events, Kaylor is looking to team leader Aleyah Brown to set the tone for the sprint squad with sophomores Aleah Huse, Kendra Dumas, Amira Branson, and Eve Bradley contributing in prominent ways. "We really have to get focused into our events, and even into practices with our teammates, and really try and give all our effort." In the field events, junior Halle Escher should contribute in pole vault and senior Kiarra Kellis, Caitlyn Cardwell, Ashley Sheldon and junior Carreon Johnson will be notable athletes in the throwing events. There are also incoming freshmen who could make an immediate impact, including Olivia Kapenga, Miette Smith, Veronica Lennon, Jamillah Clark and Abigail Lassila. Head custodian Jamie Collier coached Clark and Lassila in middle school, and said, "[Lassila] is obsessive about the way she hurdles, she will record herself at practice and watch it. And [Clark] is effortlessly fast. She is lightning fast. That girl can run, and it looks effortless. [They] will contribute like no other. That'll be fun to watch."