Black Panther smashes box office sales, cultural boundaries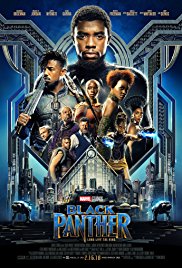 Lexi Kava, Entertainment Editor
February 28, 2018
Marvel Cinematic Universe's 18th movie, The Black Panther, smashed its way into theatres across the country this past Friday, and since its debut, the film has taken the world by storm.
The movie started off by breaking the box office records and earning a whopping 192 million dollars on the opening weekend. The movie has been called everything from spectacular to groundbreaking to revolutionary, and has sparked conversation globally.
The movie itself is about a small African country called Wakanda, which is the most advanced country in the world and filled with a rare metal called vibranium. They have kept themselves in hiding to stay protected from outside corruption until the death of their king T'Chaka (which occurred in an earlier Marvel film, Captain America: Civil War). The Black Panther picks up shortly after that when Prince T'Challa, played by the phenomenal Chadwick Boseman (who previously starred in Get On Up), returns home to be coronated as the King and thereby becoming the Black Panther. He is, however, met with enemies to face in order to become a true king. The movie is incredibly exciting and is constantly keeping the audience entertained. From realistic African rituals to sibling bonding to all out crazy fight scenes, the movie has everything you could ever want and more.
Besides being a thrilling superhero movie, the Black Panther brings something never before seen on such a big screen: accurate representations of African tribal culture. The Black Panther is the first black superhero to get his own movie, and it is the first almost all black cast to ever have their own film. The cast was an exciting mix of great actors and actresses like Chadwick Boseman, Michael B Jordan, Lupita N'Yongo, Letitia Wright, Martin Freeman, and many more. The movie expresses all sort of different messages and views. It gives the audience a look into authentic African culture, shows warrior women, and offers a superhero story told from a different perspective.
The Black Panther also sets up for the end of the Avengers adventures. It is the 18th film in the Marvel Cinematic Universe's 22 movie story arc, which will ultimately end with the fourth Avengers sometime in 2019. Without giving anything away, the Black Panther and it's after credit scenes give clues to what will unfold in the Avengers Infinity War part one, when the Avengers will meet the ultimate threat: Thanos. Infinity War will hit theatres on May fourth of this year, and the Black Panther will also make his third movie debut in this film.
All in all, the Black Panther is a revolutionary superhero movie that is exciting from beginning to end. Not only does it tell a great story from a perspective not often seen, it brings change with it as well. Marvel truly outdid themselves with this one.